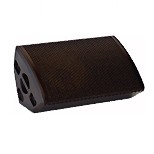 The M15 is a multi-purpose high output enclosure, that can be used as a stage monitor, FOH system, center enclosure,
or as a fill device.
The M15's symmetrical cabinet design facilitates mirror imaging when used as a stage monitor by maintaining the
same projection angle. The indescreet simplified Adamson logo indicates the low LF driver end. When placed side to
side with the logos facing the low frequencies will couple. When placed on the opposite side, the horns will couple
The M15 employs a switch which allows bi-amped or passive operation. It uses internal crossover circuitry when in
passive mode, which is automatically by-passed when in active mode.
The cabinet is loaded with a single ND-15L, a 15 inch LF driver which incorporates a lightweight long excursion
neodymium magnet, enhancing output, delivering superior powerhandling and providing consistently stable low end
frequency response.The ND-15's basket utilizes an enlarged heat sync and thermal fins which draw heat away from the
coil, lowering its operating temperature and improving thermal compression.
Constructed from Baltic birch, it is designed to
accept a multi-purpose rigging plate that allows
several different methods of flying the cabinet
(see Rigging section).
The ND-15 is the only driver with zero-axial
modes in it's entire passband. (60-800 hz) This
substantially increases the linearized mid-band
response.
Compared to traditional paper cones, the
multilayer Kevlar cone along with advanced cone
architecture, offers superior performance, zero fatigue and eliminates cone modes in the passband.
Adamson Systems Engineering
Brock Adamson's passion for sound has driven the evolution of Adamson Systems Engineering from a small speaker shop to a company invested in its own factory, with a broad engineering base and a wide range of computer controlled manufacturing machinery. Now Adamson is recognized as the most advanced manufacturer of loudspeaker systems in the industry. A versatile range of products - from the highly acclaimed Y-Axis and SpekTrix true line source arrays to the SX and MH Series of conventional loudspeakers - has equated the Adamson brand name around the world with excellence and distinction.
Used Monitors
Find used speaker monitors and stage monitors from popular brands as L-Acoustics, Turbosound, EAW and Meyer Sound. All used speakers we carry are warrantied and in most cases inspected by factory certified technicians. Solaris sells and buys secondhand and used stage monitors and monitors for use in churches, clubs, theaters and other large events and shows. Call us if you don't find it and we will find it for you.