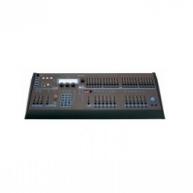 LP-X48

ACCESS TO DIMMERS VIA FADERS
Allows quick adjustment of 48 control channels during the show or when programming.
VIRTUAL CHANNELS
Conventional channels will not be limited to the number of front panel faders. You can access up to 192
control channels via the keypad at anytime.
20 PAGES OF 12 PLAYBACKS
Each Playback is capable of containing a virtually unlimited number of steps that are able to include looks
from Moving Lights, Scrollers, & Conventional Instruments. Steps from within each playback can be
activated via the 'Select Button' or they can be automated with timing triggers with Loop and Link
functions.
THEATRICAL STYLE CUE STACK
Familiar user interface for executing cues containing Moving Light, Scroller, & Conventional Instrument
looks. The Cue Stack can be used independently or in conjunction with the 12 Playbacks.
VGA, BACKLIT-TRACKBALL, & KEYBOARD SUPPORT
VGA Output-Offers increased viewing and access to Show Playback, Recording, & Editing.
Trackball-Ergonomically positioned for comfortable on screen navigation.
Keyboard Support-Used to name Labels (Palettes), Playbacks, & numerical data, such as timing
parameters and DMX values.
MOVING LIGHT AUTO PATCH
The LP-X Series of consoles will locate the first available instrument slot and patch the fixture or fixtures
and assign the appropriate number of channels automatically.
3.5 FLOPPY DISK DRIVE
Standard PC formatted disks can be used for show storage as well as program & Fixture Library updates.
Program & Fixture Library updates can be downloaded from Leprecon's website.
1024 DMX CHANNELS
Four DMX-512 isolated outputs are provided for Moving Lights & dimmers, each universe has two outputs
for isolated cable runs.
EFFECTS GENERATOR
Instantly create patterns and effects with built in and user definable Focus, Beam, & Color Effects
Generator. Complex Position effects include pan & tilt, timing, & fixture sequence settings. Color & Beam
Effects include Fade, Hold, & Delay timing for each Color or Beam Label (Palette).
OPTIONAL TOUCH SCREEN INTERFACE
Active Matrix TFT 15 Flat Screen interface places fixtures, labels (palettes), effects, timing parameters,
plus much more at your fingertips. Antiglare/Impact Resistant glass-touch surface utilizing Surface Wave
Technology offers years of precise and reliable service.
SEPARATE FADE TIMES FOR COLOR, BEAM, INTENSITY, & FOCUS ATTRIBUTES
Gives the user the ability to quickly and easily program complex cues that incorporate separate fade rates
for CBIF attributes. Example: When a cue is executed, the color and beam looks may snap into place,
while the next focus position is completed over a 10 second period.
LIVE OVERRIDE FUNCTION
Allows the user to easily make immediate changes at a second's notice. This can be an invaluable
feature for those unexpected moments when the performer or speaker improvises during a show or
speech.

Leprecon
We are building a company that will survive and thrive in the long term, as we continue to develop and maintain the capacity to enable the rapid development, marketing, manufacturing and service of leading edge entertainment lighting products, in accordance with our vision. We do this by designing, building and marketing innovative, high quality, reasonably priced products.
Used Lighting Consoles
Find used lighting consoles and lighting desks in well maintained condition from such popular brands as MA Lighting, High End Systems, Avolites, Jands and Martin Professional. All used lighting consoles come with warranty and many have been certified by factory technicians. Solaris sells and buys secondhand and used lighting consoles desks for touring production, churches, theaters, film, television and more. If you do not find what you are looking for give us a call.
LP-X48 - Demo Board
LP-X48 - The Leprecon LP-X Series Consoles are Designed for Controlling Moving Lights and Conventional Dimmin...
LP-X48 - Used Once!
LP-X48 - MINT Condition with 15 inch touchscreen
LP-X48 - 48 channel light board with programmable channels and preset playbacks.
LP-X48 - Console + Case and Monitor
LP-X48 - Corporate Rentals only with Case + Touch Screen
LP-X48 - Great Lil' Console At A Great Price