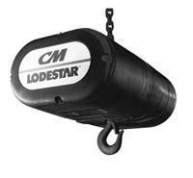 ? Designed and built to take the
rigors of the touring industry
? Black powder coat finish for
durability
? 115 VAC control circuit
? Heat treated formed steel chain
guides
? Easy to handle, operate and
maintain
? Designed for operation in the
inverted position
? H4 duty rated at 30 minutes/300
starts/hour
? Operates with voltage drops up
to 10% below name plate rating
? Capacities of up to 3 tons
? Adjustable screw limits provide
added reliability
? Standard overload protection
offers increased safety
? Minimum 5:1 design ratio
? Zinc plated load chain protects
against corrosion
? Grease lubrication in gear case
eliminates oil drips on stage
? Hoist motor is completely
enclosed in durable protective
cast aluminum housing
? Interfaces with all existing
controllers and power distros
? Fits in standard road case
? Lifetime warranty
? Each Hoist thoroughly inspected
and tested to over 125% of rated
load prior to shipment
? Meets ASME B30.16, HMI
(Hoist Manufacturing Institute),
NEC and OSHA standards and
regulations
? TUV pending
? pending
? Made in U.S.A.
? Manufactured in an ISO 9001
Registered Facility

Capacity
Available in metric capacities from 1/8 ton
through 3 ton (1/2 ton, 1 ton and 2 ton are standard
stocked hoists)
Voltage
Standard voltages
208 - 240 volt 3 phase 60 hz
208 - 240 volt 1 phase 60 hz
208 - 240 volt 1 phase 50 hz
440 - 480 volt 3 phase 60 hz
110 - 115 volt 1 phase 60 hz
380 - 440 volt 3 phase 50 hz
110 - 115 volt 1 phase 50 hz
575 volt 3 phase 60 hz
575 volt 3 phase 50 hz
Available voltages - contact factory
200 volt 3 phase 50/60 hz
100 volt 1 phase 50 hz
200 volt 1 phase 50 hz
380 volt 3 phase 60 hz
Speed
16 fpm (60 hz) and 13.3 fpm (50 hz) is standard for
lighting Truss, ground support systems, etc., when
the loading point is 1 ton or less
8 fpm (60 hz) and 6.5 fpm (50 hz) is standard for
speaker clusters, ground support systems, etc.,
when the loading point is 2 tons or less
Other speeds including 2 speed and variable are
available (consult the factory for assistance)
Lift
60 ft. is standard but can be furnished in any length
required.
Power cord
21/2 ft. is standard but can be furnished with any
length and can be fitted with a connector of your
choice
Control cord
6' 3" is standard but can be furnished in any length,
and furnished with a connector of your choice or
with a CM snap action control station for single
Hoist operation
Hook style
360deg rotation Latchlok and conventional upper and
lower hooks available: Orange on black available ??
please specify.
NEMA rating
Hoist is furnished as standard NEMA 1 (general
purpose indoor use)
Factory available to NEMA 3R (rain and sleet
resistant) and can be modified by your distributor
with weep holes for extended outdoor use
C.E. stickers
Lodestars are available that conform to EC
Machinery Directive, EC Low Voltage Directive,
Harmonized Standards, DIN, VGB8 and IEC
Standards
VGB 70
Contact factory
Accessory items
Chain bags, road boxes, power distros, and multi
Hoist controllers are all available through your CM
distributor
Columbus McKinnon
Columbus McKinnon Corporation (Nasdaq: CMCO) is a leading designer and manufacturer of material handling products, systems and services which lift, secure, position or move material ergonomically, safely, precisely and efficiently.
Used Stage Motors and Hoists
Motors are used in electronic stage hoists for lifting and transporting heavy stage and concert equipment and props around a theatre or venue. Motors are needed as theatrical plays and concerts often involve the use of equipment that is too heavy or bulky to be lifted manually, and so motors are especially useful when props need to be moved quickly. As a rule, there are two characteristics which define chain hoist motors â?? the power type and the lifting medium. The medium for lifting in the most common type of stage motor system is a load-chain, although rope and wire are also used (usually in older staging hoist systems). Motors work by pulling the lifting medium through a pulley. A motors power can be provided by a number of different means. Electrical, hydraulic and even air-driven motors are all fairly common. While the rope and chain stage hoist has been around for hundreds of years, electric stage hoists and motors are fairly recent inventions and have only been common for the last 80 years or so. Several different types of motors are available. Single speed and two-speed motors are the most common types, and these come in several different lifting capacity ratings, from 1/8 tons all the way up to 3 tons and even higher with some specialized motors. The range of lift is also another factor in choosing your stage hoist â?? most single speed motors have a lifting range of between 10 and 20 feet, whereas two-speed motors usually only have 10 feet of lift.