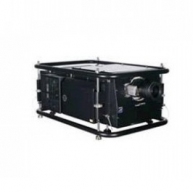 Digital Projection International (DPI), Texas Instruments' first DLP partner and the original innovator of the 3-chip DLP projector, proudly introduces the LIGHTNING 40isx+. Based on the same rugged, mechanically capable chassis as the Lightning 35HD, these Pro Series II projectors employ the latest in dark metal, 3-chip DLP technology, and include DPI's exceptional RapidRig staging and stacking hardware with integrated pitch, roll and yaw adjustments. When considered along with their 21,000 ANSI lumen brightness and 1800:1 contrast performance, the 40isx+ is ideally suited for the most challenging staging and large-venue permanent installations in the world.

The LIGHTNING 40isx+ also incorporates DPI's Hyper-Cooled lamp module, one of our CoolTek innovations. Engineered with a proprietary, directional-flow reflector mask and Radial heat exchanger, the Hyper-Cooled module dramatically improves projector thermal characteristics and extends reflector life and lumen maintenance. In turn, these operating benefits provide a significant reduction to the long-term cost of ownership, while also enhancing component reliability.

Intelligent Lens Mount (ILM) - provides the ability for the user to program up to 10 distinct presets for lens zoom, focus and shift. The ILM presets can be assigned and automatically recalled, by source and input.
Digital Projection
A digital imaging pioneer and industry leader, Digital Projection International (DPI) manufactures and distributes an extensive and expanding line of ultra high-performance 3-chip and single-chip DLP® projection systems. These projectors are the reference standard for demanding applications such as large-venue, live-event staging, Fortune 5000, homeland security, education, medical and scientific research, command and control, digital cinema, commercial entertainment, worship and elite home cinema.
Used Analog Video Projectors
Analog video projectors are used as an alternative to TV screens, monitors and display walls. They are useful in situations in which it is not possible (either physically or due to budget constraints) to set up some kind of TV screen. Analog video projectors are able to display images by projecting a beam of light onto a special screen or even just a white wall, although it is necessary for the lights in the room/venue to be dimmed. These days, analog video projectors are seen as fairly old technology, yet they are still widely used in theater venues and in some concerts for the reasons mentioned above. Most analog video projectors will only accept a basic composite video connector, such as an RGB output or S-video connector, as many of them were made back in the 1980s. Note that due to this limitation, most analog video projectors are limited to a resolution of 320 x 240, although some models may be able to reach a 640 x 480 resolution. Users of analog video projectors need to beware that this is old technology. Most projectors are usually very old and so the components may have worn down, meaning the analog convergence lacks the precision we may be used to with digital technology.
LIGHTNING 40isx+ - LIGHTNING 40isx+ in excellent condition.
LIGHTNING 40isx+ - LIGHTNING 40isx+ with flight case and frame in great condition.
Lightning 40-1080p - Lightning 40-1080p in mint condition with lens, remote control, and lamps. Previously used on a chu...
LIGHTNING 40isx+ - LIGHTNING 40isx+ in great condition, previously used on a church installation.