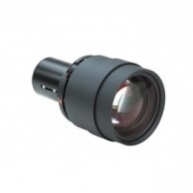 Database Error
Message:
MySQL Query fail: select REGISTERED_MODEL, ID_REG_MODEL, registered_manufacturers.REGISTERED_MANUFACTURER FROM registered_models LEFT JOIN registered_manufacturers ON ( registered_manufacturers.ID_REG_MANUF = registered_models.ID_REG_MANUF ) where REGISTERED_MODEL REGEXP '[[:alnum:]]+' && SEO_EXCLUDE_KEYWORD != 1 && LENGTH(REGISTERED_MODEL) >= 5 order by rand()
MySQL Error:
Error writing file '/var/tmp/MYgZOuM1' (Errcode: 28 - No space left on device)
Date:
Saturday, November 25, 2017 at 6:27:36 AM
Script:
/used/lens-40-701/36620
When used with Christie's single-chip DLP SXGA+ products, this lens has a 4.0-7.0:1 throw ratio. If used with the HD405, the lens will provide a 3.7-6.5:1 throw ratio. If used with the DW30, the lens will provide a 4.38-7.66:1 throw ratio.
Please refer to the Christie Lens Calculator on this website or the downloadable PDF throw distance chart located in the resource tab of this lens option or the resource tab of Christie projector to be used with this lens.
SXGA+ Specifications
Throw Ratio4.0-7.0
Vertical Offset+/-120%
Horizontal Offset+/-78%
Screen Width37" - 383" (95cm - 973cm)
Lens Length9.0" (22.8cm)
720 HD Specifications
Throw Ratio4.38-7.66
Vertical Offset+/-231%
Horizontal Offset+/-104%
Screen Width37" - 383" (95cm - 973cm)
Lens Length9.0" (22.8cm)
Due to constant research, specifications and features are subject to change without notice.
Applies to:
Christie DS+405
Christie DS+60
Christie DS+65
Christie DS+650
Christie DS+655
Christie DW30
Christie HD405
Matrix 3000
Christie Digital
Christie a global visual technologies company, offers diverse solutions for business, entertainment, and industry. With expertise in film projection since 1929 and professional projection systems since 1979, we've established a reputation as the worlds single source manufacturer of a variety of display technologies and solutions for cinema, large audience environments, control rooms, business presentations, training facilities, 3D and virtual reality, simulation, education, media and government. As a market leader, Christie has installed over 100,000 projection solutions worldwide. Christie technologies Christies broad range of technologies include DLP Cinema projectors, LCD and DLP projectors, rear screen projection modules, video walls, and cutting edge projection technologies for 3D, virtual reality and simulation. Whatever the application, our solutions are purpose-built to meet unique projection requirements, and are backed by industry-leading service and support ensuring complete customer satisfaction. Global organizations use Christie's visual solutions Many of the worlds most demanding organizations rely on Christie for their display solutions, including AMC Theaters, AT&T Global Network Operations Center, Boeing, Buckhead Community Church (Atlanta, Georgia), Carlton Screen Advertising (UK), Cinemark, China Film Group, Dallas Police, Connecticut Light & Power, Deluxe, Deutsche Telekom, First Baptist Church of Orlando, Georgetown University, General Motors, Harrods', Industrial Light & Magic, Italian Army, Italian Railways, Japans National Institute for Fusion Science, Microsoft, Loews, Montreal Police, Paramount Parks Star Trek Borg Invasion 4D, Pixar Animation Studios, Regal CineMedia Corp., Scripps Network, Shell, Shenzhen Telecom, Sinopec (China), Sony Picture Studios, Starbucks, Taiwan Air Force, Toronto Stock Exchange (TSX), Tulane Universitys A.B. Freeman School of Business, University of Illinois, Urbana and Wharton School of Business.
Used Video Projector Lenses
Database Error
Message:
MySQL Query fail: select MODEL, ID_ITEM, SUBTITLE, DESCRIPTION, QUANTITY,STATUSS from items where STATUSS LIKE '%SOLD%' && PRICE_FINAL_US >0 && QUANTITY >0 && ID_ITEM != 36620 && ID_REG_MODEL = 11354 && LENGTH(SUBTITLE) > 0 && LENGTH(DESCRIPTION) > 0 order by rand()
MySQL Error:
Got error 28 from storage engine
Date:
Saturday, November 25, 2017 at 6:27:36 AM
Script:
/used/lens-40-701/36620