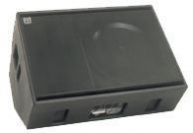 The Martin Audio LE700A is designed to overcome many of the problems associated with normal stage monitor systems, by utilising differential dispersion horn techniques to define a constant sound pressure level area in which the artist may move. In this area the frequency response and tonal characteristics remain unchanged.

The benefits of this technology are two-fold. Firstly the monitor engineer can plan EQ set ups confident that the performer's movement window will have no problematic frequency changes causing feedback. This allows higher sound pressure levels with less EQ.

Secondly, the performer can move further away from the monitor whilst continuing to receive information from the monitor which will cut through the highest on-stage ambient volume levels.
Martin Audio
Martin Audio was founded in 1971 to manufacture and supply world class touring systems for the supergroups of the day that included Pink Floyd and Supertramp. We are very proud of this heritage. Designing leading edge live performance systems has remained core to our success. Today, Martin Audio enjoys an international reputation for supplying superb performance ready systems across the spectrum of sound reinforcement applications. Our portfolio of products, now highly developed, meet customer requirements for every market sector. Renowned for integrity in design, technical excellence and the longevity of its products, Martin Audio takes system creation into a further dimension. Our aim is for every member of the audience to enjoy an exceptional sonic experience. Martin Audio systems are designed with in-built sound qualities which artists can rely on to faithfully reproduce their performance to every corner of the auditorium.
Used Monitors
Find used speaker monitors and stage monitors from popular brands as L-Acoustics, Turbosound, EAW and Meyer Sound. All used speakers we carry are warrantied and in most cases inspected by factory certified technicians. Solaris sells and buys secondhand and used stage monitors and monitors for use in churches, clubs, theaters and other large events and shows. Call us if you don't find it and we will find it for you.