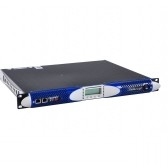 The most versatile model due to an attractive mix of features, size and output power, making the K3 an outstanding value. It is built on same technologies as every other K Series model, and indeed, the K3 produces the same great sound quality, no matter what type of loudspeaker it is connected to.

In use worldwide by leading touring and event sound companies, K Series is preferred among the top ranking system designers, sound engineers, and system techs on the road for making their lives easier, giving them reliable premier-grade power and headroom in the smallest possible package size.

Fully digitally controlled and with a serial PC communication port as standard, the K3 is also available with either or both KDSP board and KAESOP Ethernet/AES3 interface. Fully equipped with both options, the K3 DSP+AESOP amounts to a fully integrated, highly sophisticated yet easy to use power source including state-of-the-art sound shaping and system management capabilities, remotely controllable via Powersoft′s Armona Pro Audio Suite software.
Powersoft
Used Amp Rack Units
Find used audio amps and amplifiers by top manufacturers such as Lab Gruppen, Crown, Crest, Powersoft and more. All products come with warranties and are tested before shipping to you. Solaris sells and buys secondhand and used amplifiers for installations, concerts, churches, events and all types of entertainment production. If you do not find what you are looking for give us a call and we will quickly find it for you.