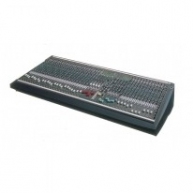 This modular 8-bus mixer has been designed to satisfy today's requirements for high quality mid-range sound reinforcement consoles. That means advanced mute scene setting and MIDI control, plus 'big console' features, such as sophisticated and precise EQ, input metering, an advanced solo system, and eight pre/post auxiliaries. If your monitoring requirements are more complex then you can team your k3 Theatre up with Soundcraft's SM12 monitor console, which provides the flexibility of 14 foldback mixes.

k3 Theatre delivers an unprecedented degree of mixing control in a versatile package that will integrate into a wide range of live and installed sound situations. It offers an extensive range of frame sizes and modules, enhancing the inherent versatility of a modular 8-bus configuration.

But versatility is nothing without quality to match - k3 Theatre is designed and engineered to Soundcraft's customary high standards. That means it's built to last, with a rugged steel chassis protecting its circuitry and no compromises in design or component specification throughout. All the rear panel XLRs are gold-plated and inside, the circuit boards employ advanced surface-mount technology.

The compact frame with its low sightline will fit in almost anywhere, and ensures excellent visibility from the mixing position. Larger k3 Theatre consoles, of 24-channels and above, can be fitted with an optional meter bridge.

Soundcraft
Founded in 1973, Soundcraft first made its mark with the launch of the Series 1, the first mixing console in a flightcase. Back in the early 70's, the music touring business was just beginning - and the transportable mixing desk quickly became popular among the bands and the new PA companies that were springing up to rent out sound equipment. From what was then a small company in central London, Soundcraft expanded and started to diversify. The company designed a mixer for recording - the Series 2 - and began to build a reputation for great-sounding desks, which is often referred to as the favoured 'British Sound'. Design and innovation has always been one of Soundcraft's major strengths. Over the years it has introduced a number of industry-favoured consoles such as the Series 4, 2400, TS24, 8000, 200B, 6000, Delta, SAC200 and the Spirit Folio range, and more recently the Series FIVE, FIVE Monitor and Broadway. Today Soundcraft has a network of 88 distributors selling and supporting its products world-wide. Part of the Harman Pro Group, Soundcraft is still very much the dedicated professional mixing console designer and manufacturer it was back in 1973. It now boasts a range of mixers which are designed for use in live sound, recording, post-production, TV and radio production and disco applications. Harman is an international company which comprises a group of dedicated manufacturers of audio equipment spanning professional audio, in-car systems, multimedia and hi-fi consumer products.
Used Analog Mixing Consoles
k3 Theatre - Used on corporate events. Comes with a road case and dual power supplies.
k3 Theatre - Like new k3 Theatre.