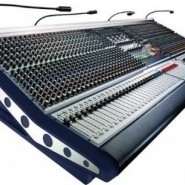 Sometimes there's just no substitute for experience. Live sound puts special demands on both equipment and personnel, because there's no second take, and because anything less than total reliability can mean disaster. Then there's the physical punishment of touring, and the need to work in a wide variety of environments. After more the 25 years of designing and building mixers for professional live sound, Soundcraft has earned a reputation that's second to none, because we Listen to engineers at the cutting edge, and take notice. The k2 is our most cost-effective fully-featured 8-bus live console ever, taking advantage of Soundcraft's long experience in live sound to deliver, in a straightforward package, all the facilities you need for a first-rate production.

The k2 includes many features that you'd expect only on a much bigger console - like an advanced solo system, true left-centre-right bussing, a built-in Matrix, and full 4-band EQ - equipping it for a range of applications from touring with bands to fixed installations in theatres, clubs, or places of worship. The desk is available in three frame sizes from 24 to 48 mono input channels, with an additional eight stereo input channels.
Soundcraft
Founded in 1973, Soundcraft first made its mark with the launch of the Series 1, the first mixing console in a flightcase. Back in the early 70's, the music touring business was just beginning - and the transportable mixing desk quickly became popular among the bands and the new PA companies that were springing up to rent out sound equipment. From what was then a small company in central London, Soundcraft expanded and started to diversify. The company designed a mixer for recording - the Series 2 - and began to build a reputation for great-sounding desks, which is often referred to as the favoured 'British Sound'. Design and innovation has always been one of Soundcraft's major strengths. Over the years it has introduced a number of industry-favoured consoles such as the Series 4, 2400, TS24, 8000, 200B, 6000, Delta, SAC200 and the Spirit Folio range, and more recently the Series FIVE, FIVE Monitor and Broadway. Today Soundcraft has a network of 88 distributors selling and supporting its products world-wide. Part of the Harman Pro Group, Soundcraft is still very much the dedicated professional mixing console designer and manufacturer it was back in 1973. It now boasts a range of mixers which are designed for use in live sound, recording, post-production, TV and radio production and disco applications. Harman is an international company which comprises a group of dedicated manufacturers of audio equipment spanning professional audio, in-car systems, multimedia and hi-fi consumer products.
Used Analog Mixing Consoles