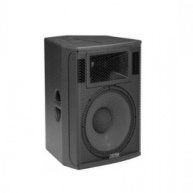 The JFX560 is a 2-way multi-use loudspeaker. Its multi-functional design adds considerably to its value as a full-range loudspeaker. Combining high output and natural reproduction, it is specifically outfitted to serve in a variety of both portable and permanent applications. The asymmetric enclosure provides typical angles needed for ceiling and wall mounting as well as for stage monitor operation. For permanent installation, enclosure hardware includes mounting points for an Omnimount Series 300 or similar bracket and fly track for suspension. Provisions for portable use include a pole mount cup, top/bottom fly track for rigging, and handles integral to the enclosure that facilitate handling and transport. The JFX560 is particularly suitable as a nearer field main loudspeaker or as a fill/delay element in larger systems. Its wide angle projection makes audience coverage easy in a variety of situations. While the JFX560 is well suited as is for many applications, the addition of a Subwoofer expands its capbilities for more demanding applications such as for houses of worship, theaters, and band PA.

Applications
Portable systems or permanent installations
Wall and ceiling mountings
Ideal size and output for wide range of programs
Main PA reinforcement in medium- to large-sized spaces
Downfill for flown clusters
High SPL stage lip/delay fill
A/V and/or surround sound installations
Voice & F/X reinforcement in themed attractions
Eastern Acoustic Works
Eastern Acoustic Works (EAW) is the global leader in high-performance, professional loudspeaker system design and manufacture. Based in an historic mill complex in Whitinsville, Massachusetts, USA, EAW gives audio professionals a comprehensive tool kit that helps them deliver customized sound reinforcement solutions for venues and events around the world.
Used Monitors
Find used speaker monitors and stage monitors from popular brands as L-Acoustics, Turbosound, EAW and Meyer Sound. All used speakers we carry are warrantied and in most cases inspected by factory certified technicians. Solaris sells and buys secondhand and used stage monitors and monitors for use in churches, clubs, theaters and other large events and shows. Call us if you don't find it and we will find it for you.
JFX560 - JFX560 in good condition.