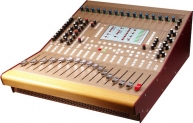 Cadac maintains a continual investment programme in the J-Type. Users can put any module in any position, configuring the console to suit the project in hand.

For audio quality, the J-Type is the Cadac benchmark for exceptional performance. All of the inputs, insert send/returns and outputs are electronically balanced, as are all audio mixing busses.

Because the mix busses are balanced multiple frames can be linked together for any console size.

The J-Type is a custom frame modular automated mixer with up to 256 inputs, 12 Auxs, 16 subs and 32 matrix outputs.

There is an impressive range of hot-swappable input and output modules to choose from: users can combine manual input and output modules with automated programmable dual input, stereo input and output channels to get the precise routing and mix required for every cue running from the PC based SAM software.

? Cadac's unique "plug anywhere" modules for user configuration
? Modular for easy serviceability
? Recall all DC master, channel on/off, fader position* on a cue-by-cue basis (SAM software)
? Balanced Bussing
? *Motorised fader option
? 10 mono and 2 stereo Auxs, 16 groups, 16 into 32 Matrix and 16 DC Masters
? Hand tuned common mode rejection and balancing
? Dual Power Supply system
? Custom Frame sizes up to 63 slots each can be bussed together in multiples to construct up to 32, 48 and more (up to 200) input channel configurations.
Used Analog Mixing Consoles