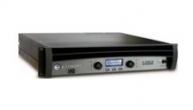 This is among the most powerful and versatile amplifiers on the market today and is the only product available with analog, AES/EBU, CobraNet, HiQnet and Ethernet connectivity.

Front-panel features include user-definable security and a USB connector for transferring presets between a USB drive and the amp??s DSP. A new software interface based on customer feedback manages presets, provides easier system-level changes, and includes a configuration wizard.

The I-Tech 12000 HD's global Power Supply accepts 100-240VAC at 50/60 Hz (10%), delivering maximum power no matter where your schedule takes you.

In an introduction that dramatically resets expectations of what a professional-grade touring amplifier should deliver in terms of performance, processing, integration and ease of use, amplifier pioneer Crown Audio today introduced the new I-Tech HD Series amplifiers that have been meticulously engineered to advance every criteria by which an amplifier is judged. At its core, I-Tech HD features a new user-inspired DSP engine co-developed with BSS and Linear Phase FIR filters that offer unrivaled performance. Together with Crown's Class-I amplifier technology; new software that makes I-Tech HD robust and very easy to configure; an industry-leading choice of input options including CobraNet and the all-new LevelMax? limiters (Peak, Thermal and RMS), I-Tech HD is a stunning product of engineering R&D, more than 60 years of amplifier heritage and systematic user input from tour sound leaders in all markets.

??I-Tech HD, our new flagship amplifier, advances the state-of-the-art on no less than seven fronts, said Mark Graham, President of Crown Audio. ??A remarkable achievement in engineering, I-Tech HD Series is a destructive technology in the sense that it obsoletes all that came before it. It's a worthy testament to Crown's engineering team and the tour sound professionals around the world who helped with the development.

Developed in conjunction with sister company BSS, the next generation OmniDriveHD DSP Engine at the heart of I-Tech HD is built on a new architecture specifically optimized for fast and efficient audio processing to provide tour and contracting professionals with a new platform for signal processing. The new FIREWALL? FIR filter technology provides significantly improved midrange clarity and dramatically improved off-axis response. The OmniDrive HD reduces latency, safeguards sonic integrity and advances system reliability. AudioCore features 24- bit, 192 kHz A/D and D/A converters.

In yet another industry first, Crown Audio links the limiters in its new family of amplifiers: Crown's innovative LevelMax? limiter technology links the previously independent Peak, Thermal and RMS Limiters, enabling more effective, elegant protection of connected speakers while advancing system performance. LevelMax limiter actions are better informed for more effective, efficient results and minimal sonic degradation.

Crown I-Tech HD benefits from the software R&D firepower of Harman Professional's System Development & Integration Group (SDIG) and is easily configured via HiQnet? System Architect? Software. The user interface has been completely redesigned. Managing large networks of amplifiers on the road has never been easier. System Architect mirrors the typical browser navigation interface to provide tour sound and contracting professionals with a familiar interface to access a host of power configuration and control functions. System Architect includes context-sensitive, alphanumeric keypads, which pop up automatically with relevant parameter units when a value or text entry box is selected with the stylus.

Further simplifying ease of use, Crown I-Tech HD Series features a road-warrior-inspired front panel USB slot for load and recall of amplifier settings. Chief engineers can simply hand pre-loaded USB keys to entry-level staff who can now quickly, cost-efficiently and accurately configure entire racks by inserting the correct key and pressing the load button. A patent-pending intuitive front panel work surface with LCD display provides fast and easy menu-based system setup and full amplifier diagnostics.
Crown
Crown international Manufacturer of power amplifiers, microphones, and processing for the professional audio industry.
Used Amp Rack Units
Find used audio amps and amplifiers by top manufacturers such as Lab Gruppen, Crown, Crest, Powersoft and more. All products come with warranties and are tested before shipping to you. Solaris sells and buys secondhand and used amplifiers for installations, concerts, churches, events and all types of entertainment production. If you do not find what you are looking for give us a call and we will quickly find it for you.
ITech12000 HD - Original V Rack with (3) ITech12000 HD in great condition. Previously used in tours.
ITech12000 HD - Corporate used ITech12000 HD in great condition.
IT12000HD - 12000HD's pulled from a shock mount rack.