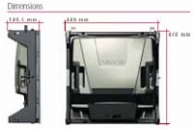 Barco i6xp LED tiles are 6mm modular Indoor LED tiles that can be put together in any configuration to make any sized LED Screen. Along with the 6mm pixel pitch resolution, the i6xp has an output brightness of 2,500 NITS, and uses the 3-in-1 SMD LED technology (Surface Mount Diode).
With its 6mm resolution, 14-bit processing power, level 2 calibration, and enhance software algorithms, the i6xp delivers unbeatable light output, with unsurpassed color depth and uniformity. The i6xp LED is source compatible for any input up to 1080p.
Incorporating Barco's proprietary System Color Signature technology, each individual LED's color and brightness characteristics are robotically measured at the factory. This technology allows you to mix and match tiles to obtain a seamless display with a perfect image every single time.
Barco
Barco, a global technology company, designs and develops visualization solutions for a variety of selected professional markets: medical imaging, media & entertainment, infrastructure & utilities, traffic & transportation, defense & security, education & training and corporate AV. In these markets Barco offers user-friendly imaging products that optimize productivity and business efficiency. Its innovative hard- and software solutions integrate all aspects of the imaging chain, from image acquisition and processing to image display and management. Barco has its own facilities for Sales & Marketing, Customer Support, R&D and Manufacturing in Europe, America and Asia-Pacific. The company (NYSE, Euronext Brussels: BAR) is active in more than 90 countries and employs 3,500 staff worldwide. In 2008 Barco posted sales of 742 million euro.
Used Ballasts and Power Supplies
Ballasts are power supplies used for creating light. Without ballasts/power supplies to help create an inductive amount of energy, light bulbs and stage lights would destruct or possibly blowup. These ballasts/power supplies are able to stabilize the electrical current by affecting the electrical load of circuits. For instance, electronic ballast is a device, which restricts the number of currents in an electrical circuit and produces light. A lamp starter requires inducer ballasts so that both ends of the lamp donā??t overheat. Another example is the magnetic ballast, which is used in fluorescent lamps to create radiant light. They are called magnetic ballasts/power supplies because they utilize an inducer. An inductor has 2 main perks. First of all, it will limit the power available to a lamp while only losing an insignificant amount of power. Secondly, the voltage spike created after a current goes into the inductor can be used to strike the arc in the lamp. These ballasts/power supplies differ immensely in intricacy. Ballasts can be as simple as a small resistor for lamp or as complicated as computerized electronic ballasts often used for fluorescent lamps. Electronic ballasts/power supplies such as an electronic lamp ballast utilizes electronic circuitry to power HID lamps. They have the ability to affect the frequency of a power source. Ballasts are also sometimes used to regulate the current through light-emitting diodes (LED). Even though, LEDs are positive resistance devices they arenā??t able to regulate a strong current such as a power supplies like ballasts can. The reason why a resistor isnā??t as commonly used as ballasts/power supplies is because a significant amount of power would be lost with a resistor.
iLite 6 XP - iLite 6 XP in great condition. Minimum purchase of (6) units. Priced per unit.