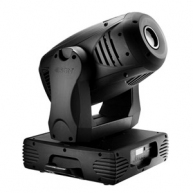 Light and easy to handle, with its 700W lamp IDEA SPOT 700 produces a concentrated, steady and very bright beam. Like fixtures of a higher class, IDEA SPOT 700 has technically Avant-garde features, such as an electronic ballast (which makes the unit flicker-free and lighter), a linear zoom that ensures fast precise beam aperture from 14 to 30 and a CMY colour mixing system.

Perfect for lighting even far-off areas with intense colours and clear-cut effects, IDEA SPOT 700 is even more practical thanks to its back-up battery, which enables settings to be seen on the units display even when it is switched off.

Its wireless DMX interface (fitted as standard) eliminates troublesome Cable runs between the fixture and its control unit, greatly facilitating installation and use.
SGM
For over 25 years, SGM has been a key international player in the development of 'intelligent' entertainment lighting systems. Its success is based on its strong business vocation, its great interest in innovation and its staff's enthusiasm. But above all, its choices. Setting up a Research & Development Centre equipped with the very latest mechanical, electronic and optical processing software, where its technology is designed in-house. Managing the entire manufacturing process directly, using machinery and control systems of the latest generation. Being 'in the field' worldwide alongside lighting designers, rental firms and installers with its technicians and its sales network, listening to their needs and offering responses made up of concrete solutions and avant-garde products: products with a 'personality' and unique characteristics. This is why moving head fixtures, scanners, follow spots, colour-changers, lighting control consoles, dimmers, strobe lights and smoke machines with the SGM logo are equally at home on top show events, at concerts or in theatres and television studios. SGM faces 21st century technical and commercial competition as a protagonist, convinced of its present and certain of its future. Because SGM's future consists in cutting edge proprietary technology, an innovative approach to product features and great passion for a fascinating job.
Used Moving Lights
Moving lights, or intelligent lighting as they are sometimes called, are basically a type of stage lighting that is able to move due to its integrated mechanical elements, which go beyond the moving parts that are found in more traditional, non-moving lighting. Automated lighting such as moving lights is highly valued by stage lighting technicians as through them, it is possible to create highly complex special effects that simply cannot be made using standard, non-moveable lights. It should be noted however, that when it comes to intelligent lighting, the real intelligence lies with the programmer of the show, rather than the lighting equipment or any operator. Moving head lights, also called moving head luminaires, are highly versatile lighting instruments capable of performing multiple lighting functions at once. They have largely superseded the use of multiple non-moving lights to create special effects, which required many lights and a large amount of skill on behalf of the operators. Moving lights are hooked up to a lighting control console and send data to it in one of three ways '?? through an Ethernet control (a relatively new technology), analogue control (now almost obsolete), or DMX, (which is now the industry standard). So long as they have been properly programmed, the optics of wiggly lights can be altered in many ways, allowing for the '??personality'?Ě of the lights to be adapted almost instantaneously, depending on the requirements of the operator. Typically, moving lights will be pre-programmed before a production and controlled using simple commands, although some more experience operators may prefer to control them '??live'?Ě, if they have the experience to do so.