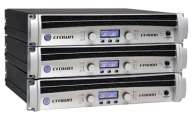 Touring sound. Earth-shattering performance. I-Tech's patented class-I technology is the number one choice of touring professionals worldwide.
* Global Power Supply designed to deliver maximum power no matter where your schedule takes you
* Studio Quality Processing integrated processing reduces DSP noise for a quieter overall system
* Peak voltage and RMS power limiting protects your speaker investment
* Front panel LCD provides diagnostics and preset selection to ensure fast and easy system setup
* Front panel lockout ensures that tunings and presets are safely stored and protected from curious users
* Remote monitoring and control for complete system control anywhere in the Venue

Crown
Crown international Manufacturer of power amplifiers, microphones, and processing for the professional audio industry.
Used Amp Rack Units
Find used audio amps and amplifiers by top manufacturers such as Lab Gruppen, Crown, Crest, Powersoft and more. All products come with warranties and are tested before shipping to you. Solaris sells and buys secondhand and used amplifiers for installations, concerts, churches, events and all types of entertainment production. If you do not find what you are looking for give us a call and we will quickly find it for you.
I-Tech 6000 - These have just gone through Crown's factory modification process that fixes all known I-Tech issues...
I-Tech 6000 - Used on various rentals. Comes shipped in cardboard.
I-Tech 6000 - From 2009. Will ship in protective cardboard.