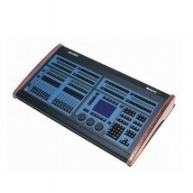 The Hog 1000 is designed to control any combination of automated or static lighting fixtures, with Moving Lights as simple to control as conventional luminaires. This console is the ideal choice to control both simple and complex lighting systems.


Feature List

WholeHog II Operating System
Cues, Cue lists, effects and presets can be merged from one show to another
Split Fade Times on any parameter
Cue Lists, cue contents, programmer, patch and actual stage output can be displayed on a VDU
Any fixture can be patched anywhere on the DMX outputs
User-Definable system defaults
Multiple fixture types simultaniously supported
Console self test and diagnostic routines
Access protection PIN
Easy to understand command line syntax
Menu banks of pallette buttons give instant access to Beam, Colour, Position and Groups of fixtures LCD's provide continuous feedback on programming and playback status together with cue or palette lists
All shows can be stored on floppy disk
Universal Power Supply 100-240 VAC 47-63 hz
CE and C tick approved
Jands
Jands have been designing, building and operating lighting equipment since we made our first dimmer in 1970. Since then, our products have become a standard feature of lighting rigs the world over. Whatever country you'??re in, ask an industry professional about Jands products and you'??ll get the same response: '??reliable, good value, solid and dependable, go-anywhere do-anything, noise-free, just better.'?? But we don'??t just offer our own lighting equipment, we'??ve also identified the best products available from other manufacturers. This is why we can give you the best possible lighting solution, including ETC and Varilite products.
Used Lighting Consoles
Find used lighting consoles and lighting desks in well maintained condition from such popular brands as MA Lighting, High End Systems, Avolites, Jands and Martin Professional. All used lighting consoles come with warranty and many have been certified by factory technicians. Solaris sells and buys secondhand and used lighting consoles desks for touring production, churches, theaters, film, television and more. If you do not find what you are looking for give us a call.