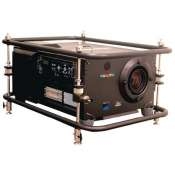 The SXGA+ native resolution HIGHLITE 12000Dsx++ Professional Series projector provides an excellent combination of lumen output (greater than 11,000 ANSI lumens) and ultra-rich contrast (1800:1 full-field). The HIGHlite's combination of spectacular 3-chip DLP imaging accuracy, mechanical adaptability and supreme efficiency of operation sets the HIGHLITE 12000Dsx++ apart from any other medium-to-large Venue display.
Digital Projection
A digital imaging pioneer and industry leader, Digital Projection International (DPI) manufactures and distributes an extensive and expanding line of ultra high-performance 3-chip and single-chip DLP¬ģ projection systems. These projectors are the reference standard for demanding applications such as large-venue, live-event staging, Fortune 5000, homeland security, education, medical and scientific research, command and control, digital cinema, commercial entertainment, worship and elite home cinema.
Used Video Projectors
Video projectors such as a digital video projector or an LCD projector are an alternative to regular video screens in that they project images directly onto a screen, rather than projecting the video from behind as a television or monitor does. Video projectors use a lens system and project an extremely bright beam of light onto a screen. Modern video projectors such as a 3 chip DLP projector have are extremely intricate and able to correct inconsistencies in the image such as blurriness and curvature. Video projectors are commonly used in concerts and theatres, and they have many other applications in educational and business settings. They can also be used as part of a home theater system. There are a vast range of different video projectors available. The old CRT projectors are surprisingly still quite widely used, as they are able to project a very large image size, although the bulkiness of the cabinet is not so popular. For professional use in theatres and concerts, the DLP projector is one of the preferred models. DLP video projectors use 1, 2 or 3 Digital Micromirror Devices, called DMDs, which are essentially microfabricated light valves. The 1 chip DLP projector and the 2 chip DLP projector have been known to experience a problem however '?? viewers can sometimes perceive a '??rainbow'?Ě on the projection screen, and so the 3 chip DLP projector is more popular, as this is able to display each primary color in a simultaneous fashion, so the problem doesn'??t occur. The LCD flat panel model is perhaps one of the most popular video projectors for home and business use, as it is both affordable and simple to use. Other video projectors include the LCoS projector, LED projectors, Laser Diode projectors and hybrid LED/Laser Diode projectors.
HIGHLITE 12000Dsx+ - Excellent working condition. Very minimal scratches on the body. Looks clean. Well maintained by pro...
HIGHLITE 12000Dsx+ - Used in an opera house. Cleaned and checked by local maintenance crew before listing.
HIGHLITE 12000Dsx+ - Package of (2) HIGHLITE 12000Dsx+ in greatcondition. Priced per package.