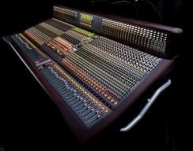 The Midas Heritage 4000 is an evolution of the award winning Heritage 3000 with an additional 16 more busses, which has resulted in what many would regard as the ultimate stage monitor console.

As monitor applications have become more demanding, specifically with the increased usage of in-ear systems, it is now common to see multiple consoles bussed together, in order to achieve the required amount of outputs. The Heritage 4000 allows an engineer to run up to 40 mixes (plus stereo masters) from a single console, benefiting from the world-renown Heritage buss flexibility, and ??road proven digital assistance.

As with all Heritage and Legend consoles the Heritage 4000 can be linked to the Klark Teknik Helix system allowing instant access to the EQ for any input or output simply by pressing the solo key on the desk. A beautifully elegant Solution.
Midas
Midas has been designing and manufacturing live performance mixing consoles for the worldâ??s most demanding sound engineers, performers and production rental companies since the early 1970s. The evolution of Midas consoles throughout the 30-year history of this classic marque has always paralleled, and often led, increasingly sophisticated audio innovations for the world-wide entertainment technology industry. Raising the standards of sonic quality through continual research and development has always been - and still remains - our overall aim. Equally important to us is the design and implementation of many new areas of control functionality and user-friendly desk operation to anticipate and accommodate the rapidly changing and expanding needs of audio professionals who specify Midas consoles for their major tours, festivals, international events, broadcast projects and prestigious fixed installations. The Midas design pedigree has, since our birth, been founded upon a track record of achieving a unique symbiosis with working sound engineers around the planet - engineers who respect and endorse our proven technology in the light of their responsibilities to their internationally-based clients who are themselves the leading lights of our industry.
Used Analog Mixing Consoles
Heritage 4000 - Used on an installation. Comes with a case.
Heritage 4000 - Heritage 4000 in excellent condition. Used in a church.
Heritage 4000 - Used on various rentals. Cleaned and tested in house.
Heritage 4000 - 44 mono, 4 stereo channels full tour pack. In mint condition.