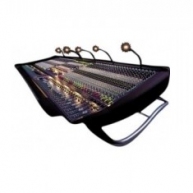 The Heritage 3000 has established itself as the international industry standard in concert sound for Front of House and monitor applications. Defined not only by its striking colour (yes, it's purple) but also by all those things that make it so unmistakably Midas, the Heritage 3000 has proved to be a runaway success from day one.

Firstly, it's flexible - at home in a theatre, an Outside Broadcast Truck, on stage or at front of house, the H3000 offers a unique, easy to use, three position switching system that changes the consoles output functions according to the application.

Secondly it has all of the hallmarks which make it sound so distinctly Midas. They include a new mic amplifier which further improves on the XL4 design giving a CMR improvement of +30dB whilst retaining the XL4's constant HF bandwidth topology, assuring excellent amplifier stability, RF rejection and noise performance at all gains, plus the legendary fully parametric XL4 EQ. This powerful desk is available in frame sizes from 48 to 56 inputs and is as tough as they come. With it's contemporary styling and vast range of features plus the Midas assurance of quality, it is little wonder this desk is the darling of the rental market.

Midas
Midas has been designing and manufacturing live performance mixing consoles for the worldâ??s most demanding sound engineers, performers and production rental companies since the early 1970s. The evolution of Midas consoles throughout the 30-year history of this classic marque has always paralleled, and often led, increasingly sophisticated audio innovations for the world-wide entertainment technology industry. Raising the standards of sonic quality through continual research and development has always been - and still remains - our overall aim. Equally important to us is the design and implementation of many new areas of control functionality and user-friendly desk operation to anticipate and accommodate the rapidly changing and expanding needs of audio professionals who specify Midas consoles for their major tours, festivals, international events, broadcast projects and prestigious fixed installations. The Midas design pedigree has, since our birth, been founded upon a track record of achieving a unique symbiosis with working sound engineers around the planet - engineers who respect and endorse our proven technology in the light of their responsibilities to their internationally-based clients who are themselves the leading lights of our industry.
Used Analog Mixing Consoles
Heritage 3000 - Heritage 3000 in good condition.
Heritage 3000 - Heritage 3000 with 56 channels and flight case in good condition. Previously used on rentals.
Heritage 3000 - Heritage 3000 with 48 channels in excellent condition.
Heritage 3000 - Heritage 3000 in great condition. Unit includes a flightcase with a doghouse.
Heritage 3000 - 44 mono + 4 stereo channels. Unit was used in corporate events.
Heritage 3000 - Heritage 3000 in great condition.
Heritage 3000 - Heritage 3000 in great condition.
Heritage 3000 - 44 mono + 4 stereo channels. Comes with a 15 day warranty.
Heritage 3000 - 48 channel. Version loaded with 44 mono and 4 stereo inputs feeding 24 outputs. 5 day warranty.
Heritage 3000 - Heritage 3000 in excellent condition.