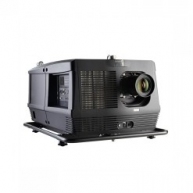 The ultra-bright and reliable HDF-W26 projector is a perfect fit for any large venue or event that requires extra brightness to show clear, crisp images in a luminous environment.

Reliable and powerful projection

With a light output of 26,000 lumens, the HDF-W26 displays superior images even in venues with lots of ambient light. Thanks to its 3-chip DLP technology, Xenon illumination and high-contrast optical engine, the HDF guarantees crisp images with rich colors on every occasion. Whats more, it is fully ready to support 3D projection. It has also been equipped with Barcos high-end ImagePRO technology with Athena scaler for flexible scaling.

Wireless control and preview mode

In addition, the versatile HDF-W26 offers extended wireless control features via smart phone or tablet computer. The HDF-W26s built-in color LCD screen provides all the information you need on your projector's connected sources, status, power, temperatures and lamp run-time and allows you to preview your connected sources.

Designed for rental and staging

Building on Barcos experience in the rental and staging market with the proven FLM family, the HDF has been designed with the road in mind. Its compact and modular design makes the HDF simple to install and service. Equipped with an (optional) bottom or top frame, the rugged projector can easily be rigged as well.

Fast signal distribution

Our proprietary BarcoLink technology guarantees swift signal distribution between Barcos projectors and image processors. With BarcoLink, signals are distributed over a BNC coax Cable, which is not only more durable but also enables you to lower your costs.

Choose your brightness with HDF Flex

Light-on-demandThe HDF-W26 projector is also available with light-on-demand option. Thanks to this technology, you can fully tune the light output of the projector to your event: it can be programmed to a light output of 18,000 lumens up to 26,000 lumens in 2,000 Incremental steps. In this way, rental companies have more flexibility to offer their customers the light output they want.
Barco
Barco, a global technology company, designs and develops visualization solutions for a variety of selected professional markets: medical imaging, media & entertainment, infrastructure & utilities, traffic & transportation, defense & security, education & training and corporate AV. In these markets Barco offers user-friendly imaging products that optimize productivity and business efficiency. Its innovative hard- and software solutions integrate all aspects of the imaging chain, from image acquisition and processing to image display and management. Barco has its own facilities for Sales & Marketing, Customer Support, R&D and Manufacturing in Europe, America and Asia-Pacific. The company (NYSE, Euronext Brussels: BAR) is active in more than 90 countries and employs 3,500 staff worldwide. In 2008 Barco posted sales of 742 million euro.
Used Video Projectors
Video projectors such as a digital video projector or an LCD projector are an alternative to regular video screens in that they project images directly onto a screen, rather than projecting the video from behind as a television or monitor does. Video projectors use a lens system and project an extremely bright beam of light onto a screen. Modern video projectors such as a 3 chip DLP projector have are extremely intricate and able to correct inconsistencies in the image such as blurriness and curvature. Video projectors are commonly used in concerts and theatres, and they have many other applications in educational and business settings. They can also be used as part of a home theater system. There are a vast range of different video projectors available. The old CRT projectors are surprisingly still quite widely used, as they are able to project a very large image size, although the bulkiness of the cabinet is not so popular. For professional use in theatres and concerts, the DLP projector is one of the preferred models. DLP video projectors use 1, 2 or 3 Digital Micromirror Devices, called DMDs, which are essentially microfabricated light valves. The 1 chip DLP projector and the 2 chip DLP projector have been known to experience a problem however '?? viewers can sometimes perceive a '??rainbow'?Ě on the projection screen, and so the 3 chip DLP projector is more popular, as this is able to display each primary color in a simultaneous fashion, so the problem doesn'??t occur. The LCD flat panel model is perhaps one of the most popular video projectors for home and business use, as it is both affordable and simple to use. Other video projectors include the LCoS projector, LED projectors, Laser Diode projectors and hybrid LED/Laser Diode projectors.