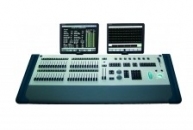 HDL-CNSL-48-1K

Harmony S Console 1024"/Fiber/Network
Channel:1024;
SUB: 48 x 4page
Main Broad: Dual CORE
DMX, DMX512, Artnet, H-Net, Ethernet, 1990 Signal Output, Wheel tracking, Support MIDI and SMPTE
(monitor is not included)
**Optional: ACN Protocol
Extra Fast Setup: 20 Seconds, Dual Control Board Synchronizing and Share, External USB Storage,
Internal Fash Storage Ready, WIFI Function, 50-60Hz, 160-260VAC
HDL
HDL was established in 1985, specialized in developing,manufacturing and distributing of Home/building automation and stage lighting control system, With its headquarter Located in Guangzhou China, HDL has business and partners in every continent .The company has strong ability for R&D, manufacturing, installating, debugging, and technical training, by undertaking missions of Height, Dedicated, Leading, HDL is one of the most famous manufacturers and integrators in national film & TV stage as well as intelligent building control field. Specially HDL keep excellent technical development cooperation with partners from Germany , Norway, UAE, Singapore, Iran, Russia and Italy etc, that speeds up HDL to being a leading and international brand, until now, HDL applied technical patents successfully for more than 60 products. HDL is dedicated to R&D and production for each product, to each sales and service opportunity, therefore had been accepted by many domestic & oversea organizations and associations. In the early 2003, HDL became a member of American ESTA, famous as an international observer in ACN network standards, and also as member of KNX/EIB ARTNET and DALI. In 2006, HDL has also undertaken the drafting and preparation work of the Standard of DMX512-A Data Transfer Protocol under the Ministry of Culture.
Used Lighting Consoles
Find used lighting consoles and lighting desks in well maintained condition from such popular brands as MA Lighting, High End Systems, Avolites, Jands and Martin Professional. All used lighting consoles come with warranty and many have been certified by factory technicians. Solaris sells and buys secondhand and used lighting consoles desks for touring production, churches, theaters, film, television and more. If you do not find what you are looking for give us a call.