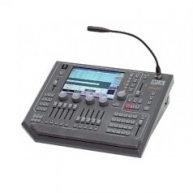 With the grandMA micro MA Lighting has designed one of the most compact moving light controllers ever for more than just entry level applications. Additionally this console includes all features of many conventional Lighting Consoles. Therefore this mid range desk is suitable for small concerts, lighting on tour, effect lighting for fairs and exhibitions as well as for smaller theatres and TV -studio use. The grandMA micro offers 1024 individual parameters for smart control of conventional dimmers, Moving Lights from the built-in library or self-created fixtures of any kind.
The micro includes all its components in a most compact desktophousing with everything built in; no external power supplies,
processor units or monitors are required. It is based on a most reliable industrial computer board which was design to resist even stronger environmental influences.
The grandMA micro opens up to the world EtherNet communications for the transmission of DMX data and for the use of its free software companion grandMA 3D. It has got an open link to many of the control protocols already in use on the market.

A new hardware platform for maximum reliability
Enter the new compact class
MA has designed this new console around the new industrial
single PCB computer with a Geode 266 MHz processor chip. This
computer has all necessary links to the external world on-board
from a mouse and keyboard connection to a auto
sensing 10/100 Mbit/s EtherNet port. For operating system,
software and showfile archive a 128 MByte CF-flashcard is
used. A built in floppy disk drive can be used for external archive
options or to upgrade to the latest version of software. For a
sneak control of Moving Lights a connection for an external
industrial trackball is provided.

Technical Data
Hardware - All-On-Board:
The grandMA micro housing contains everything that is needed to work. No additional PC or power supply is needed.
Programmes, lamp type library and actual software version are stored on a 256MB Compact Flash disk.

Screen:
The full colour TFT screen is one of the most distinctive aesthetic features of the grandMA micro.
It is equipped with the same high-quality touch screen, that people have meanwhile learned to love on the grandMA.
The display is totally user configurable.
They can be used for programming, playback or display purposes

Faders:
There are 10 faders on the left hand side of the console which can do anything the user wants.
They offer direct access to any parameter of settings such as fade times, circle movement diameter or effect speed.
They allow multiple page operation and a virtually unlimited number of simultaneous playback operations, or they can be used as a single channel or a group of channels with independent levels or as real submasters.

Links to the World:
Beside one DMX In- and 2 DMX Outputs, MIDI, Sound and SMPTE the console offers Ethernet to be ready for communication as grandMA 3D or Artnet protocol.

Software - Total Flexibility:
The grandMA micro is based on the grandMA software and thus designed for maximum operational flexibility.
At every level, the desks functionality can bend to the users preferred way of programming, operation and playback.
Cue Timing for example can be done as a general Fade time and Trig point setting.
Alternatively individual settings for each channel, including delay times, will make a single cue look like a complex sequence.

Operational Options:
Some operators may use the faders even to adjust single channels and to control playback.
Users who prefer to use touch screen and mouse will find a complete different way, or those who like to use encoders,
? Playback works on the basis of dipless cross fade either in Tracking or Non-Tracking mode.
? The flash disk Stands for a high storage capacity of presets, memories, cues and effects

Front Panel Layout:
? Housing with a built-in touch screen with TFT colour monitor 10,4 (26,4 cm).
? 1 encoder for e.g. X-/Y-selection within the monitor window.
? 6 view-/macro-buttons.
? 1 command button to access all the keys like numeric keypad, move, copy, group, up, down etc. etc.
? 1 keyboard button to access the internal on screen keyboard.
? 4 encoders with fast-/slow-function for free choice of attributes.
? 10 faders as executor- or channel-faders, each with 1 directly assigned buttons.
? 20 executor buttons for direct retrieval of sequences, chases and other functions.
? Blackout button with grand master fader
? External mouse, keyboard and trackball can be connected on option.

Basics of Operation Modes:
Set-up menu for start configuration:
? Basic configuration available on flash disk.
? Lamp type library with more than 250 multifunctional fixtures.
? All fixtures and channels can be named individually.
? Soft patch with individual Curve/Invert per channel.
? Definition of new lamp types on screen.

Display of Output and Data Entry:
? Numeric dimmer channel listing.
? Channel fader symbols.
? Fixture parameter spreadsheets for status report on Moving Lights and dimmers.
? Different additional options available.

Selection and Data Input:
? Selection via Group Buttons, ext. Mouse, Touch screen or Keypad

Fader Working Modes:
? Executor Faders and Buttons:
? Executors organized in pages with optional multi-page operation with page freezing for each executor.
? Working mode of faders and buttons can be freely assigned.
? Up to 5 executors can be grouped together to control one cue-list.
? A block of special function buttons can be applied to any executor

Brightness master for sequences or groups in HTP mode.
? Manual X-fade, split fade, AB-fade.
? Speed, fade time, rate for chaser and sequences.

Button Working Modes:
? ON/OFF, GO+, GO-, pause, flash, etc..
? Fast GO and GO- () without fades.
? Temporary flash playback even for LTP channels.

Output Listings and Playback Protocols:
? Channel values displayed in different colours for up/down/wait/extern.
? Cue list spreadsheets with step names and all step data for fast modification.

Direct Access during Playback:
? Any channel can be controlled directly at any time and indifferent modes.
? FREEZE, CLEAR and RELEASE functions.
? Pure modifications of values can directly be stored with the UPDATE function.
? EDIT function for direct access to timing parameters and chaser / sequence step modes.

Adjustment of Hardware:
? Touch screen calibration.
? 3 band Software equalizer for audio input.
? Different resolutions selectable for trackball, and encoder .
? Adjustable brightness of screen and desk lamp.
? Default store mode, times and parameters.
? Default fader and button working modes.
MA Lighting
The company was founded in 1983 by Michael Adenau (MA) and enjoys strong growth from the very beginning until today. More than 10,000 MA control desks are being used all over the world and MA´s digital dimming systems have become an industry standard. The success accelerated in 1985, when software specialist Ernst Ebrecht joined MA Lighting as a partner. In this period MA introduced the Lightcommander 24 and Lightcommander 48 control desks. When launched in 1992 the MA Scancommander caused a huge stir in the burgeoning world of moving light control. This product established MA Lighting as a leading innovator of lighting control for the global touring and event sector. Leading producers of intelligent lighting showed great interest in MA's new operating philosophy, which radically differed from the historical "dimmer -oriented" control systems of that time. In the spring of 1998 MA showed the world the eagerly awaited grandMA console. This hybrid lighting control console brought a new level of hardware sophistication to the lighting world. The full color touch screens, motorized faders, built in UPS (uninterruptible power supply) and hard drive were only the beginning. The summer of 2000 saw the launch of a host of new products from MA, the grandMA light, the grandMA replay unit and the grandMA offline editor. In the autumn of 2001, the grandMA range will be completed with the introduction of the grandMA ultra-light. The ultra-light has 1,024 channels but retains the main features of a grandMA at a very competitive price. Today, MA Lighting are well known for their technical know-how and have achieved an unique international reputation for its operational philosophy. MA´s award-winning products are extremely reliable and offer cutting-edge solutions for dimming and control. Organizational Structure This story of success is strongly based on the teamwork between MA and Lightpower. Lightpower, located in Paderborn, is handling the international distribution of MA products since 1987. The two companies work very closely together and, through their respective roles, have made each other stronger. Production, and research & development are located in MA´s modern headquarters in Waldbuettelbrunn. For marketing, sales and technical support Lightpower has founded a new subsidiary: MA Lighting International. All of these activities are coordinated in their Paderborn facilities.
Used Lighting Consoles
Find used lighting consoles and lighting desks in well maintained condition from such popular brands as MA Lighting, High End Systems, Avolites, Jands and Martin Professional. All used lighting consoles come with warranty and many have been certified by factory technicians. Solaris sells and buys secondhand and used lighting consoles desks for touring production, churches, theaters, film, television and more. If you do not find what you are looking for give us a call.