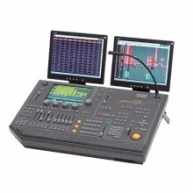 The grandMA Light is the small console that performs all of the functions of the larger Award-Winning grandMA. With the grandMA Light, you lose some of the faders & touch screens, but none of its functionality. It is completely compatible with the grandMA and will accept all shows programmed on grandMA in view of its reduced hardware.
At 29" x 20" x 5", it only requires a very small space. It has a very bright high-contrast, full-colour TFT touch screen and the viewing angle can be altered via adjustable legs at the rear of the housing. The light will support 2 additional external Monitors. It has all of the I/O of the grandMA, so it will output 4 DMX universes (with 4 additional ones via Ethernet), DMX in, SMPTE, MIDI, RS-232, audio input, switching analogue inputs, etc.
The grandMA Light has the features that have made grandMA so popular including an internal UPS and hard drive as well as motorized faders for multiple programming and playback options.
MA Lighting
The company was founded in 1983 by Michael Adenau (MA) and enjoys strong growth from the very beginning until today. More than 10,000 MA control desks are being used all over the world and MA´s digital dimming systems have become an industry standard. The success accelerated in 1985, when software specialist Ernst Ebrecht joined MA Lighting as a partner. In this period MA introduced the Lightcommander 24 and Lightcommander 48 control desks. When launched in 1992 the MA Scancommander caused a huge stir in the burgeoning world of moving light control. This product established MA Lighting as a leading innovator of lighting control for the global touring and event sector. Leading producers of intelligent lighting showed great interest in MA's new operating philosophy, which radically differed from the historical "dimmer -oriented" control systems of that time. In the spring of 1998 MA showed the world the eagerly awaited grandMA console. This hybrid lighting control console brought a new level of hardware sophistication to the lighting world. The full color touch screens, motorized faders, built in UPS (uninterruptible power supply) and hard drive were only the beginning. The summer of 2000 saw the launch of a host of new products from MA, the grandMA light, the grandMA replay unit and the grandMA offline editor. In the autumn of 2001, the grandMA range will be completed with the introduction of the grandMA ultra-light. The ultra-light has 1,024 channels but retains the main features of a grandMA at a very competitive price. Today, MA Lighting are well known for their technical know-how and have achieved an unique international reputation for its operational philosophy. MA´s award-winning products are extremely reliable and offer cutting-edge solutions for dimming and control. Organizational Structure This story of success is strongly based on the teamwork between MA and Lightpower. Lightpower, located in Paderborn, is handling the international distribution of MA products since 1987. The two companies work very closely together and, through their respective roles, have made each other stronger. Production, and research & development are located in MA´s modern headquarters in Waldbuettelbrunn. For marketing, sales and technical support Lightpower has founded a new subsidiary: MA Lighting International. All of these activities are coordinated in their Paderborn facilities.
Used Lighting Consoles
Find used lighting consoles and lighting desks in well maintained condition from such popular brands as MA Lighting, High End Systems, Avolites, Jands and Martin Professional. All used lighting consoles come with warranty and many have been certified by factory technicians. Solaris sells and buys secondhand and used lighting consoles desks for touring production, churches, theaters, film, television and more. If you do not find what you are looking for give us a call.