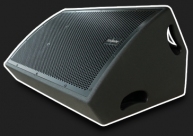 The FM850 is a premium stage monitor designed to exceed the expectations of the most discerning performers and engineers. This portable, lowprofile, high output stage monitoring system exhibits a flat amplitude and phase response, high gain before feedback, and provides unmatched SPL in an extremely ergonomic form. The 1.4? exit high frequency Compression Driver features a 3? titanium diaphragm and neodymium magnet structure, coupled with a new proprietary 70degH X 55degV CNFE waveguide. Low and mid frequencies are reproduced by a high efficiency, high power handling 15? cone transducer featuring a 4? voice coil and Neodymium magnet structure.

The enclosure of the FM850 is constructed of 12-ply void free birch hardwood plywood and is coated with a weather and wear resistant Pro Coat? polyurea hybrid finish. The FM850 is triple cut to allow use from three different angles on stage. Both Neutrik NL4 connectors are located in a recessed jack panel that allows the connection of multiple Monitors to a single amplifier. The recess also prevents the Cable connectors from damage if the monitor is repositioned, or the Cable is stepped on. Components in the front of the enclosure are protected by a curved grill made from perforated steel that is coated with heat cured epoxy powder, and lined with acoustically transparent foam. Cam-Lock quick release fasteners allow easy access to the loudspeakers with only a screw driver. The FM850 is available as a single unit, or in mirror image pairs.
McCauley Sound
Nestled in the heart of the Pacific Northwest, surrounded by great evergreen forests and under the shadow of majestic Mt. Rainier, McCauley Sound, Inc. is an American company founded in the humble frontier spirit of discovery and driven forward by a traditional pride in the merits of craftsmanship. As an innovator and leader in the design and manufacture of high-performance professional loudspeaker systems and raw-frame loudspeaker components, McCauley Sound is the only professional audio company still based in the United States who both engineers new technologies and manufactures products entirely in-house and under our direct control.
Used Monitors
Find used speaker monitors and stage monitors from popular brands as L-Acoustics, Turbosound, EAW and Meyer Sound. All used speakers we carry are warrantied and in most cases inspected by factory certified technicians. Solaris sells and buys secondhand and used stage monitors and monitors for use in churches, clubs, theaters and other large events and shows. Call us if you don't find it and we will find it for you.
FM850 - FM850 Monitor in great condition. Minimum purchase of (2) units.