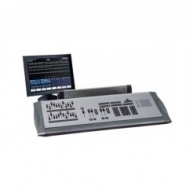 Why do so many people pick Express? Well, it's an Expression-line console with the easy, smart operational style that Expression users swear by. And it's an economical console that can do virtually everything - professional lighting control and power in the reach of any budget. Its versatile combination of fader-familiar two-scene presets with sophisticated pushbutton programmability means it's accessible to anyone, especially those being initiated into the world of board operation. No learning curve here. Once you know Express, you're ready for Expression and Broadway-level lighting control.

Express uses Expression 3 software, giving your venue the moving light control and 16-bit resolution you'd only expect to find from a higher-end console.

And there are five different Express consoles to choose from - one to suit every venue's needs. Whether you're an academic institution, church, community theater, TV studio, or beyond - Express offers you total lighting-control value. Any Express console can be upgreaded to part of an Emphasis Control System.

Features
# Preset-style operation
# 600 cues
# 500 groups
# X/Y trackpad controller
# Moving Light Patch
# LTP Channels
# Preset Focus
# 16-bit fades
# Ten Pages of 24 submasters
# Two timed/manual fader pairs
# Supports a single VGA monitor
# Supports Dimmer Doubling?
# Supports ETCNet, ETCLink, and MIDI
# Express 125: 125 channels - Express 250: 250 channels
# 1,024 dimmers
# Express 125: 125 channel preset memory operation - Express 250: 250 channel preset memory operation

Ratings and Approvals
All Express Consoles are UL and cUL approved, and CE marked.
Electronic Theater Controls
Since its founding by Fred Foster in 1975, ETC (Electronic Theatre Controls, Inc.) has become a global leader in award-winning entertainment and architectural lighting equipment. ETC's fixtures, lighting control consoles, dimmers and distribution products are the backbone of lighting systems in venues worldwide - from schools and churches, to community theaters and TV studios, to opera houses and theme parks. Over the first decade of its history, ETC earned a reputation for sophisticated microprocessor-based lighting control consoles. By 1990, ETC had acquired Lighting Methods, Inc., a Rochester, New York-based manufacturer of entertainment dimming systems. ETC quickly became one of the largest fully-integrated entertainment lighting control manufacturers in North America, with offices in Middleton, WI; Orlando, FL; Rochester, NY; and Hollywood, CA. The next phase of growth began in 1995, when ETC acquired the lighting control division of London-based distributor ARRI GB. That same year, ETC opened an office in Hong Kong, extending its expansion into Asia. In 1997, ETC opened an office in Copenhagen, Denmark, to serve the Northern European market, and a year later opened an office in Rome, allowing greater access to Southern Europe. ETC acquired Transtechnik Lichtsysteme, Holzkirchen, Germany in 2002, widening ETC's market potential in Europe. Continuing its growth, ETC took an equity position in Avab France in 2003. In 2004, ETC acquired Dutch sine wave dimming manufacturer IES and its industrial weighing and measuring division Penko Engineering BV, both located in Veenendaal, the Netherlands. Beginning March 31, 2005, all formerly separate operations of ETC in Europe joined under the common corporate banner of ETC. ETC's new international headquarters, located in Middleton, WI (near the state capital Madison) serve as hub of global administration and manufacturing. Through the years, ETC has gained an industry-wide reputation for outstanding service and customer support. ETC not only maintains in-house, 24-hour Technical and Customer Service staffs, but an extensive network of factory-trained, authorized field service centers.
Used Lighting Consoles
Find used lighting consoles and lighting desks in well maintained condition from such popular brands as MA Lighting, High End Systems, Avolites, Jands and Martin Professional. All used lighting consoles come with warranty and many have been certified by factory technicians. Solaris sells and buys secondhand and used lighting consoles desks for touring production, churches, theaters, film, television and more. If you do not find what you are looking for give us a call.