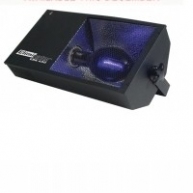 EBK-400 - Black-400
The EBK-400 has a 400W black light bulb that is perfect for large venues. Hanging bracket included.
Dimensions: 21.5" x 10.5" x 6"
Weight: 24 lbs. / 11 kgs.
Lamp: EL-400 BLK

Specifications subject to change.

Eliminator Lighting
Eliminator Lighting has perfected the manufacturing process to bring you truly affordable DJ Lighting. These affordable DJ effects can be purchased from a wide variety of dealers throughout the US. Eliminator Lights provides top-notch Affordable DJ & Club Lighting Products, great customer support, and prices that can't be beat! Through our commitment, experience, and expertise Eliminator Lights has established a business relationship with our customers that will last a lifetime!
Used Lighting Effects Accessories