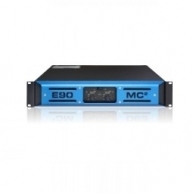 The E Series is a range of lightweight, high-power switch mode amplifiers designed to the highest standards of reliability and sound quality. Developed for the touring market, E Series retain the sonic integrity of the benchmark MC and T Series amplifiers, without the physical weight.

The switch mode Power Supply is capable of delivering high peaks without any perceptible bass 'sag' at very low distortion and is kept within its safe operating area by the new, sophisticated MC Audio 'intelligent' limiter. The E15, E25, E45 and E4-75 feature MC Audios proprietary current driven output stages for ultra-high definition sound, delivered over the entire audio bandwidth.

The E90 and the E100 are Class D amplifiers designed to meet the demands for higher power with increased efficiency whilst still maintaining the renowned MC Audio sonic qualities and unsurpassed reliability.

All MC Audio products are covered by a 5 year warranty.
MC2 Audio
Used Amp Rack Units
Find used audio amps and amplifiers by top manufacturers such as Lab Gruppen, Crown, Crest, Powersoft and more. All products come with warranties and are tested before shipping to you. Solaris sells and buys secondhand and used amplifiers for installations, concerts, churches, events and all types of entertainment production. If you do not find what you are looking for give us a call and we will quickly find it for you.