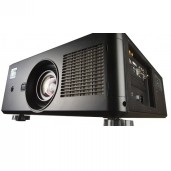 Digital Projection International (DPI), an Emmy Award-winning manufacturer of high-performance projection systems, is pleased to introduce the E-Vision series - the newest product in our high-brightness, high-value projection line. As the first display in the new series to be unveiled, the E-Vision 7000 serves as a remarkably affordable projector benefitting from the imaging fidelity of Texas Instruments DLP technology. With numerous lens options, user swappable color wheels and advanced color controls, the 7,000 lumen E-Vision 7000 continues DPIs legacy of developing powerful, efficient displays for every commercial application imaginable.

Weighing in at just 44 lbs., the dual-lamp E-Vision 7000 employs the latest in Texas Instruments 1280 x 800 dark metal DLP technology to deliver 7,000 lumens and up to 2400:1 contrast. Robustly built and ultra-quiet, the E-Vision 7000 is an unmatched Solution for corporate boardrooms, conference venues, Houses of Worship, digital signage, and any other application needing bright, accurate imagery at an remarkably accessible price point.
The E-Vision 7000 delivers high performance features as well as a compelling price. A variety of fixed and zoom lens options gives the E-Vision 7000 a flexible throw ratio range of .77:1 8.3:1. Swappable color wheel options allow the integrator or the end user to easily install the color wheel that provides the best balance of lumens and color depth to complement their application objectives and Venue lighting conditions.

Digital Projection
A digital imaging pioneer and industry leader, Digital Projection International (DPI) manufactures and distributes an extensive and expanding line of ultra high-performance 3-chip and single-chip DLP¬ģ projection systems. These projectors are the reference standard for demanding applications such as large-venue, live-event staging, Fortune 5000, homeland security, education, medical and scientific research, command and control, digital cinema, commercial entertainment, worship and elite home cinema.
Used Video Projectors
Video projectors such as a digital video projector or an LCD projector are an alternative to regular video screens in that they project images directly onto a screen, rather than projecting the video from behind as a television or monitor does. Video projectors use a lens system and project an extremely bright beam of light onto a screen. Modern video projectors such as a 3 chip DLP projector have are extremely intricate and able to correct inconsistencies in the image such as blurriness and curvature. Video projectors are commonly used in concerts and theatres, and they have many other applications in educational and business settings. They can also be used as part of a home theater system. There are a vast range of different video projectors available. The old CRT projectors are surprisingly still quite widely used, as they are able to project a very large image size, although the bulkiness of the cabinet is not so popular. For professional use in theatres and concerts, the DLP projector is one of the preferred models. DLP video projectors use 1, 2 or 3 Digital Micromirror Devices, called DMDs, which are essentially microfabricated light valves. The 1 chip DLP projector and the 2 chip DLP projector have been known to experience a problem however '?? viewers can sometimes perceive a '??rainbow'?Ě on the projection screen, and so the 3 chip DLP projector is more popular, as this is able to display each primary color in a simultaneous fashion, so the problem doesn'??t occur. The LCD flat panel model is perhaps one of the most popular video projectors for home and business use, as it is both affordable and simple to use. Other video projectors include the LCoS projector, LED projectors, Laser Diode projectors and hybrid LED/Laser Diode projectors.