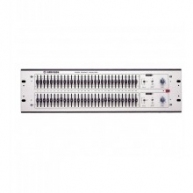 Very occasionally, a design is so correct from the very start that it needs little or no development over many years.

The Klark Teknik DN360 has been in continuous production for over twenty years with only one minor design revision, and is still the most popular analogue graphic equaliser on the Planet.

With over 35,000 units shipped worldwide to date, DN360 has achieved ubiquity in pro-audio circles. So why is it so enduringly popular? Like all KT units it is well designed and engineered to very high standards so will handle continuous road use with only minimal service. They are also very consistent, so engineers using units sourced locally all over the world will get the same response every time.

But perhaps most important of all is the way they sound it's notoriously difficult to describe sound, but talk to anyone that prefers DN360s to any other graphic and they will use words like 'musical' 'smooth' 'responsive' and 'great sounding'. Primarily this is because we use proportional-Q filtering, where the 'Q' value of the frequency increases as the cut or boost increases. This provides a flowing response at low cut / boost values, but also accurate frequency control at higher values.
Klark Teknik
In 1974, brothers Phil and Terry Clarke founded Klark Teknik Research Ltd. Their pioneering approach to design and development allowed them to introduce some truly groundbreaking designs. One of the worldâ??s first digital delay and digital reverb units emanated from their laboratory, and their descendants remain in common usage all over the world to this day. However, it was their concepts for graphic EQ devices that really changed the world of professional audio resulting in the uniquely capable DN370 and the world famous DN360. Today Klark Teknik continues to bring innovation in design, engineering and sonic quality in both the analogue and digital realm of audio signal processing. With the introduction of Show Command, Klark Teknik have an integrated system of hardware, software and Ethernet technology providing full control of loudspeaker system equalisation, management and routing. Uniquely in its field, Klark Teknik also provides the customer with an opportunity to invest in leading-edge equipment with an extraordinary working lifespan and unrivalled retained value
Used Equalizers
Equalizers are used in sound recording to equalize the balance between an electronic signalâ??s frequency components, by boosting or cutting the energy of specified frequency bands. Audio equalization is most widely used in sound recording, although it has many other applications beside that of the recording studio. There are a number of different types of Equalizers used in music recording. For example, a simple bass control (or low shelf), is able to adjust the gain of low frequency audio signals, without impacting on other frequencies. High self Equalizers (like a treble) on the other hand, are used to adjust high frequency audio signals only. Parametric Equalizers offers a far greater range of audio equalization functions however. These types of Equalizers are able to make three specific adjustments, something that makes them incredibly versatile. They can be used first of all to adjust the center frequency, and then they can be used to adjust the Q Factor in order to determine how sharp the bandwidth is. Finally, they can also be used to adjust the gain control in order to determine how much a frequency is boosted or cut in relation to frequencies above or below the selected center frequency range. A Graphic Dynamic Equalizer is similar to a Parametric Equalizer, except that these Equalizers are designed to be much more user-friendly. However, they are also less flexible than Parametric Equalizers. Graphic Equalizers employ a bank of filters to cover as many as 30 different frequency bands in the audio spectrum, depending on the model. The center frequency and Q Factor on Graphic Equalizers is fixed, but the level of these can be adjusted.
DN360 - Used on various rentals. Light grey color.
DN360 - Has been tested and is in excellent shape.
DN360 - DN360 in good condition.
DN360 - Excellent condition.
DN360 - DN360 in great condition.
DN360 - Dual channel, 30 band, 1/3 octave graphic EQ
DN360 - Dual channel, 30 band, and 1/3 Octave graphic EQ.