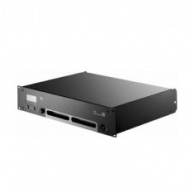 The d&b D6 amplifier is a dual channel amplifier incorporating digital signal processors (DSP) to provide loudspeaker specific configurations and functions. It is designed for use with d&b loudspeakers except the 2-Way Active mode and the B2-SUB configurations, has both digital and analog signal inputs as well as link outputs, Remote Control and monitoring capabilities and sophisticated protection circuits. It utilizes a switch mode Power Supply with PFC suitable for mains supply voltages 100 V / 115 V / 200 V / 230 V, 50 60 Hz and has a temperature and signal controlled fan to cool the internal assemblies. It is specifically designed to deliver medium power into low impedance loads between 4 and 16 ohms. A user definable 4-band parametric equalizer and signal delay capability of up to 340 ms are incorporated and can be applied independently to each channel. A signal generator offering pink noise or sine wave program is also incorporated. The D6 uses its Load monitoring and System check functions to ascertain the status of the loudspeaker impedance. d&b System check verifies that the system performs within a predefined condition, whilst d&b Load monitoring enables an automatic and continuous impedance monitoring. Both can determine the status of an LF or HF driver in systems with multiple Elements, even if these are crossed over passively. All of these functions and parameters can be easily accessed and controlled via the LCD in conjunction with the digital rotary encoder or through the d&b Remote network.

db audiotechnik
d&b audiotechnik has been developing, manufacturing and distributing loudspeaker systems since 1981. The company operates internationally in the field of electroacoustics to produce high quality products for reinforcement of speech and music. Through the amalgamation of technological developments, system integration principals, quality of construction and standards of service, d&b pursues a systems approach that includes all aspects of design, development, manufacture and support. d&b's loudspeakers are used globally in rental and installation markets for events, multimedia, musicals, concert halls, theatres, opera houses, broadcast and everything from the smallest conference room to the largest stadium.
Used Amp Rack Units
Find used audio amps and amplifiers by top manufacturers such as Lab Gruppen, Crown, Crest, Powersoft and more. All products come with warranties and are tested before shipping to you. Solaris sells and buys secondhand and used amplifiers for installations, concerts, churches, events and all types of entertainment production. If you do not find what you are looking for give us a call and we will quickly find it for you.