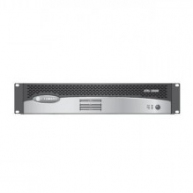 Building on the foundation of the Com-Tech Series, Crown's CTs Series offers new flexibility and value for installed sound applications. The Com-Tech Series were the first to offer independent selection of high- and low-impedance operation for a specific channel, and CTs Series amplifiers continue that tradition, with power levels and features carefully chosen to perfectly integrate into fixed install design requirements.
Crown
Crown international Manufacturer of power amplifiers, microphones, and processing for the professional audio industry.
Used Amp Rack Units
Find used audio amps and amplifiers by top manufacturers such as Lab Gruppen, Crown, Crest, Powersoft and more. All products come with warranties and are tested before shipping to you. Solaris sells and buys secondhand and used amplifiers for installations, concerts, churches, events and all types of entertainment production. If you do not find what you are looking for give us a call and we will quickly find it for you.
CTs 3000 - Crown CTs 3000 amplifier. Used as a demo unit.