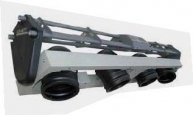 CS-2 / CS-4 are projectors of the last generation, exclusively created to enrich traditional scenographies where the PAR- 64 are used, allowing the use of a great number of scenes yet using only a few units: this also means a fast installation and the reduction of space for the transport.

The CS-2 is the unit with 2 PAR-64 lights, using 2 Air Craft 250W 28V lamps: the lamps can be separately dimmed by 2 DMX channels, and also the Pan movement can be individually regulated at 8 or 16 bit by 2 DMX channels, while the Tilt movement at 8 or 16 bit is the same for both the PAR-64.

The CS-4 is the same of CS2 but equipped with the addition of 2 spots Par 64.
Studio Due
Studio Due has been creating lighting systems for live performances, discotheques and television studios since 1982. Through constant research and innovation, and the use of premier-quality materials, Studio Due has established an international reputation as one of the market leaders in the field of professional lighting. In 1998 Studio Due has enlarged its range of products - moving head spots - outdoor multirays effects - controllers introducing a new line of - colour changer for architectural light - moving par concept specifically designed to satisfy the requirements of the architectural lighting; the most famous and world-wide appreciated among these products is the CityColor. Studio Due thanks to continuos investments is today able to produce inside the company most of the components needed in the final assembling of their products, that means manufacture high quality fixtures without loosing the flexibility in the production.
Used Par Cans
Find used par cans in well maintained condition from such popular brands as Altman, Strong, Lycian, Strand and James Thomas Engineering. All products come with warranties and are tested before shipping to you. Solaris sells and buys secondhand and used par cans for film, TV, auditoriums, concerts and theaters. If you do not find what you are looking for give us a call and we will quickly find it for you.