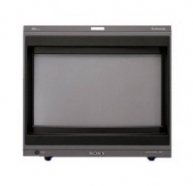 Sony BVM-20F1E. The BVM-20F1E master control monitor uses the latest HR Trinitron CRT technology providing an outstanding 900tvl of picture resolution. It is combined with a modular chassis and a robust design to fulfil the customer's expectation for the demanding Broadcast and production applications.

This monitor guarantees high picture performance combined with an extremely wide range of operational capabilities. It is tailored to fully meet the demanding requirements of reference Monitors in high quality programme production.
Features
Superb picture reproduction
This monitor provides very high-resolution pictures for the most critical picture evaluation. Sony manufactured Trinitron CRT provides excellent colour uniformity and performance.

Easy customisation
This monitor is designed with four option slots for the additional video decoder boards of your choice so you can keep your options open.

High flexibility and modularity
Whatever your needs this monitor has maximum flexibility both during installation and operation.

20-inch HR Trinitron.
Sony Trinitron CRT technology offers many benefits to users. The vertical flatness of the screen reduces ambient light Reflection. It also offers very bright, high contrast pictures combined with high picture resolution, low uniformity and purity errors.

High Resolution picture - 900 TVL.
Sony Trinitron CRT technology offers very high picture quality for the finest picture reproduction.

EBU phosphors for best colour reproduction.
Sony's high resolution HR Trinitron CRT are all equipped with EBU standard phosphors. The tight tolerances of the EBU standard guarantee a precise colour reproduction.

Auto White balance capability (Minolta, Philips, Thoma, Graseby and Sony probe)
This feature will allow you to match the white and black level of your various Monitors to the recommended standard. In addition with the EBU phosphors, you will obtain a precise picture reproduction.

Modular concept with separate control unit and memory card.
With the use of a PCMCIA memory card, you can save and download all monitor set-ups such as the input channel configuration, control preset adjustments, white balance settings and maintenance parameters.

Optional slots for various input decoders (4 slots).
Depending on your requirement, the most appropriate decoders can simply be inserted in the option slots at the rear of the monitor.

Serial remote interface for multiple monitor control.
Up to 32 Monitors can be fully controlled through this serial remote interface by a separate control unit BKM-10R.
Sony
Sony Corporation of America, based in New York City, is the U.S. subsidiary of Sony Corporation, headquartered in Tokyo. Sony is a leading manufacturer of audio, video, communications, and information technology products for the consumer and professional markets. Its music, motion picture, television, computer entertainment, and online businesses make Sony one of the most comprehensive entertainment companies in the world. Sony's principal U.S. businesses include Sony Electronics Inc., Sony Pictures Entertainment, Sony Computer Entertainment America Inc., and a 50% interest in SONY BMG MUSIC ENTERTAINMENT, one of the largest recorded music companies in the world. Sony recorded consolidated annual sales of approximately $67 billion for the fiscal year ended March 31, 2005, and it employs 151,400 people worldwide. Sony's consolidated sales in the U.S. for the fiscal year ended March 31, 2005 were $18.4 billion.
Used Unknown Video