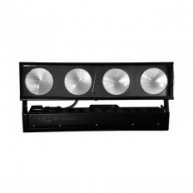 Our R&D team focused on lighting designers wishes, with an eye to versatility within hire companies. This grass roots understanding ensured that today the BB range is seen across Festival Lighting rigs the world over. With a Strong presence on TV and corporate, theatre and live events. The BB range grew out of a need to have a high powered led source that looked like lighting fixtures we are familiar with. Enhancing the older tungsten option with a new approach using homogenised optics for a truly colour mixed none led looking device.

The BB 4 has been built to last for years, which since its introduction six years ago, is still a favourite amongst lighting designers and hire companies.

As a wash light, or as a blinder effect, the range of lighting 'looks' from multiple units being used, brings alive the pixelmapping potential on a large scale. Fresh lighting looks can now be realised with ease.

All backed by good customer service and a three year warranty, Investing in the BB 4 provides a long term revenue stream with all the energy and cost savings high powered light engines provide across the BB range.
I-PIX
Used Moving Lights
Moving lights, or intelligent lighting as they are sometimes called, are basically a type of stage lighting that is able to move due to its integrated mechanical elements, which go beyond the moving parts that are found in more traditional, non-moving lighting. Automated lighting such as moving lights is highly valued by stage lighting technicians as through them, it is possible to create highly complex special effects that simply cannot be made using standard, non-moveable lights. It should be noted however, that when it comes to intelligent lighting, the real intelligence lies with the programmer of the show, rather than the lighting equipment or any operator. Moving head lights, also called moving head luminaires, are highly versatile lighting instruments capable of performing multiple lighting functions at once. They have largely superseded the use of multiple non-moving lights to create special effects, which required many lights and a large amount of skill on behalf of the operators. Moving lights are hooked up to a lighting control console and send data to it in one of three ways '?? through an Ethernet control (a relatively new technology), analogue control (now almost obsolete), or DMX, (which is now the industry standard). So long as they have been properly programmed, the optics of wiggly lights can be altered in many ways, allowing for the '??personality'?Ě of the lights to be adapted almost instantaneously, depending on the requirements of the operator. Typically, moving lights will be pre-programmed before a production and controlled using simple commands, although some more experience operators may prefer to control them '??live'?Ě, if they have the experience to do so.