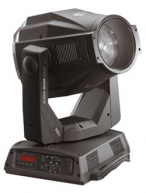 ALPHA WASH HALO

The halogen Washlight for Theater and Television
Wash light with a 1,000W (3,200 K) halogen lamp, ultra-bright, with extremely silent operation, specifically intended for use in Television and the Theatre, but also suitable for any other type of Commercial and Architectural application. It is ideal for all Lighting Designers who are looking for the typical properties of the halogen lamp: smooth, uniform field, warm color tones and gradual dimming.

MORE INFO
Exclusive optics
New optical unit with optimal luminous efficiency.
14deg - 64deg electronic linear zoom.
Fresnel Lens: diameter 200 mm, focal length 140 mm.
Top Hat for a perfect beam control.
Magical colors and effects
CMY Color Mixing
Frost with linear variation.
Indexable ovalizer.
0-100% electronic Dimmer.
Stop / Strobe effect.
Multiple and useful functions
Long life self-charging buffer battery.
Pre-set macros.
ON/OFF lamp control from the lighting desk.
Function reset from the lighting desk.
"HELP" function in the menu.
"MEMO" function.
"AUTOTEST" function.
Possibility to upgrade the software through the DMX 512 input.
ETHERNET connection.
Electronic control on each parameter.
DMX level monitoring on each channel.
Feedback information for each sensor and encoder.
Electronic repositioning of the effects.
Alpha Wash Halo is an (Silent Version) projector.
Clay Paky
Manufacturer of moving lights, effects, and image projectors.
Used Moving Lights
Moving lights, or intelligent lighting as they are sometimes called, are basically a type of stage lighting that is able to move due to its integrated mechanical elements, which go beyond the moving parts that are found in more traditional, non-moving lighting. Automated lighting such as moving lights is highly valued by stage lighting technicians as through them, it is possible to create highly complex special effects that simply cannot be made using standard, non-moveable lights. It should be noted however, that when it comes to intelligent lighting, the real intelligence lies with the programmer of the show, rather than the lighting equipment or any operator. Moving head lights, also called moving head luminaires, are highly versatile lighting instruments capable of performing multiple lighting functions at once. They have largely superseded the use of multiple non-moving lights to create special effects, which required many lights and a large amount of skill on behalf of the operators. Moving lights are hooked up to a lighting control console and send data to it in one of three ways '?? through an Ethernet control (a relatively new technology), analogue control (now almost obsolete), or DMX, (which is now the industry standard). So long as they have been properly programmed, the optics of wiggly lights can be altered in many ways, allowing for the '??personality'?Ě of the lights to be adapted almost instantaneously, depending on the requirements of the operator. Typically, moving lights will be pre-programmed before a production and controlled using simple commands, although some more experience operators may prefer to control them '??live'?Ě, if they have the experience to do so.