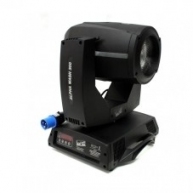 ALPHA WASH 300

A compact, light and very silent washlight that is easy to install and extremely bright (20,500 lux [12deg] at 5m).

The CMY system and 8+1 color wheel can provide any required tonality and an unrivalled color quality.

2 levels of frost on dedicated channels provide diffusion of the color in a linear and uniform way, even from short distances, permitting its universal use in the most demanding professional sectors.

A 0-100% Dimmer on dedicated channel and stop/Strobe effect complete the effects section.
MORE INFO
The BRIGHTEST 300W washlight
About 20% brighter than the best-known competitors in its category. The optical system is based on the use of a 300W lamp and a dichroic elliptical mirror with high reflection.
The Alpha Wash 300 can be used instead of projectors of larger size (575W).
COLOR QUALITY at maximum levels
CMY system and Color Wheel (8+1), that includes 2 CTO filters (3200K and 2500K) and 1 CTB filter, as well as a selection of new colors particularly demanded for professional use: Orange, Aquamarine, deep Green, deep Blue (Night Light effect) and saturated Red. The color wheel uses a new snap-shot system that increases the color changing speed.
Perfect beam UNIFORMITY
Two different frost effects with linear variation located on dedicated channels guarantee gradual color diffusion and a perfect beam uniformity at all projection distances. Beam opening from 12deg to 32deg can be obtained by using the frosts individually or together.
Very precise DIMMER
Special dimmer on dedicated channel to vary the brightness level from 0 to 100% and black-out with maximum linearity and precision.
Magnetic or electronic BALLAST
Depending on professional needs, every user can choose the product in the electronic or magnetic version.
SILENCE at the top of the category
Noise produced is less than 40 dB, thanks to the use of an innovative internal ventilation system and of an innovative electronic section that restores a further reduction of unwanted noise in the projector PAN-TILT motors.
Clay Paky
Manufacturer of moving lights, effects, and image projectors.
Used Moving Lights
Moving lights, or intelligent lighting as they are sometimes called, are basically a type of stage lighting that is able to move due to its integrated mechanical elements, which go beyond the moving parts that are found in more traditional, non-moving lighting. Automated lighting such as moving lights is highly valued by stage lighting technicians as through them, it is possible to create highly complex special effects that simply cannot be made using standard, non-moveable lights. It should be noted however, that when it comes to intelligent lighting, the real intelligence lies with the programmer of the show, rather than the lighting equipment or any operator. Moving head lights, also called moving head luminaires, are highly versatile lighting instruments capable of performing multiple lighting functions at once. They have largely superseded the use of multiple non-moving lights to create special effects, which required many lights and a large amount of skill on behalf of the operators. Moving lights are hooked up to a lighting control console and send data to it in one of three ways '?? through an Ethernet control (a relatively new technology), analogue control (now almost obsolete), or DMX, (which is now the industry standard). So long as they have been properly programmed, the optics of wiggly lights can be altered in many ways, allowing for the '??personality'?Ě of the lights to be adapted almost instantaneously, depending on the requirements of the operator. Typically, moving lights will be pre-programmed before a production and controlled using simple commands, although some more experience operators may prefer to control them '??live'?Ě, if they have the experience to do so.