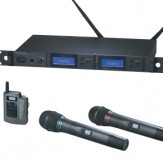 Designed for use on professional tours, in stadiums, concert halls, houses of worship and other demanding audio environments, Audio-Technicas dual-receiver Artist Elite 5000 Series provides incredible audio quality and proven, critically acclaimed performance for artists, broadcasters and presenters worldwide.

The newly upgraded 5000 Series sets standards for wireless live sound, with its dual-compander circuitry that processes high and low frequencies separately. It also features A-Ts proprietary IntelliScan capability, 996-channel frequency agility, True Diversity operation, soft-touch controls, digital Tone Lock squelch, backlit LCD displays on all transmitters, and locking battery doors on the UniPak body-pack transmitters.

With two independent True Diversity receivers in a single full-rack housing, the 5000 Series conserves rack space while providing outstandingly reliable and flexible performance. Receivers may be linked to form a complete system in which the built-in IntelliScan capability automatically determines and sets the best available frequencies on all linked receivers. Equipped with Ethernet ports, the 5000 Series receiver allows computer management and control from anywhere via new wireless control software; access computer control from a front-of-the-house rack in the same room, or clear across the country, making it truly a 21st Century product.

Multiple system configurations are available, with handheld vocal microphone/transmitters and UniPak body-pack transmitters designed for use with lavalier, headworn and instrument Microphones as well as electric guitars.
Audio Technica
Audio-Technica'??Audio pioneer in high-performance sound design Established in 1962, Audio-Technica is a worldwide group of companies devoted to the design, manufacture, marketing and distribution of problem-solving audio equipment. Initially known for state-of-the-art phonograph cartridges, A-T now creates high-performance microphones, headphones, wireless systems, mixers and electronic products for home and professional use. Winner of numerous industry awards, Audio-Technica manufactures products that set quality, durability and price/performance standards for live sound tours, broadcast and recording studios, corporate and government facilities, house-of-worship venues, and more. A-T microphones are chosen for critical government installations such as the U.S. House of Representatives and Senate. Audio-Technica microphones and wireless systems are also selected for major broadcast music events, including the GRAMMY¬ģ Awards and the Rock & Roll Hall of Fame induction ceremonies. Audio-Technica products have provided seamless audio coverage and technical support in U.S. presidential debates since 1988. A-T mics also deliver versatile solutions at high-profile sports broadcasts, including World Cup Soccer, the Super Bowl, and the Commonwealth Games, as well as the Summer Games in Athens (2004), Sydney (2000), and Atlanta (1996), and the Winter Games in Torino (2006) and Salt Lake City (2002). Audio-Technica Corporation in Japan, in addition to offering a wide range of products under its own brand, is a leading OEM supplier of audio transducers, optical sensors and a variety of specialty devices. Audio-Technica U.S., Inc. markets and distributes A-T products throughout the Western Hemisphere. With other operating companies in Europe, Singapore and Hong Kong, Audio-Technica today is a global leader in its field, committed to providing superior performance and exceptional value for customers around the world.
Used Microphones
Microphones are, along with speakers, the most essential component of any communication system. Basically, microphones are a type of acoustic-to-electric transducer, which is able to deliver sound to a remote receiver either through a cable, or more commonly nowadays, wirelessly, by converting the sound input into an electrical signal. Today, microphones are used for numerous different applications. Microphones can be found inside our telephones, radios, computers, hearing aids etc, and then there'??s the stage mic, an essential item for any stage or television performer. A modern mic can actually use a range of techniques to record sound and convert it into an electrical signal that the receiver can convert into sound. One of the most common types of microphone, the dynamic microphone, uses electromagnetic induction. Dynamic mics are actually very simple in design and have few moving parts, which is one of the reasons they are so popular, as this feature makes them a lot more rugged than other types, such as the condenser microphone, which are able to record a wider sound frequency yet are far more fragile. Dynamic microphones are ideal for recording the sound produced by loud guitars, drums and amps, thanks to their ability to withstand high SPLs. However, this design incorporates a wire coil and thick diaphragm which makes them unable to pick up the highest sound frequencies. When the ability to pick up higher sound frequencies is required, a condenser microphone is the preferred option for musicians and technicians alike. Condenser microphones work differently to dynamic microphones, as they use capacitance rather than electromagnetic induction to pick up audio. The downside is that this system requires more vulnerable parts to be used, and so these mics can be damaged fairly easily. Other types of microphone are also available for specialist applications, including the wireless microphone, electret microphones, laser microphones and fiber optic microphones.