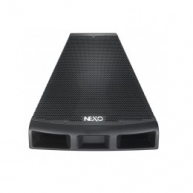 ey Features
The 45N 12 delivers very high headroom before feedback, and focusses coverage only where its needed, resulting in lower acoustic power on stage. SPL and frequency response is consistent up to 2.5 metres back. An ingenious magnetic locking system joins multiple Monitors together to form arrays. The compact, low profile design is less conspicuous than conventional Monitors (ideal for live TV production), and the 45?N 12 features a non-slip base with a skid system and ergonomic handle for easy repositioning on stage.
Nexo
NEXO are among Europe's top three sound reinforcement loudspeaker manufacturers. Based in Paris, the company was founded in 1979 by Eric Vincenot and Michael Johnson. Both are still actively involved with the company and Eric maintains the unique role of Chairman and R&D Director. What separates NEXO from the competition is an innovative, integrated systems approach to loudspeaker research and development. Each new product/system begins with sophisticated computer simulations, executed by our highly specialised proprietary software. After the design specification stage, the entire electro-acoustic signal chain is thoroughly modeled and product performance rigorously evaluated to maximize system performance in an incredibly short time frame. Site navigation is traditional here. Simply click-select any topic heading from the top or left side menus. To make our site as user-friendly as possible, we have provided custom translations and on-line utilities for French, German, Portuguese and Spanish translation. To access the NEXO-translated web text If you find our site useful, we urge you to join NEXOnet by clicking Sign Up right now, or later by selecting the Sign Up option at the left hand side of each page. And, if you have further questions, please use our Contact section, or any of the "Ask Us/Tell Us" opportunities available throughout this site. Thanks for visiting NEXO on-line, we are looking forward to hearing from you.
Used Monitors
Find used speaker monitors and stage monitors from popular brands as L-Acoustics, Turbosound, EAW and Meyer Sound. All used speakers we carry are warrantied and in most cases inspected by factory certified technicians. Solaris sells and buys secondhand and used stage monitors and monitors for use in churches, clubs, theaters and other large events and shows. Call us if you don't find it and we will find it for you.
45N 12 System - Corporate used Package of (13) 45N 12 and (5) MX Amp 4x4 in excellent condition.