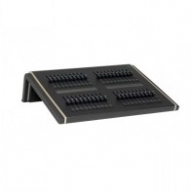 Compact and compatible with ETC's newest control consoles, the Universal Fader Wings offer flexible playback options at an economical price. Whether you need more physical faders for your Eos or Gio console, banks and banks of submasters for your Ion console, or more space-conscious solutions for master playbacks on your Congo jr console, the Universal Fader Wings are for you.

Universal Fader Wing
Universal Fader Wings are available in two variants: The 2 x 10 Fader Wing is half the width of the Ion and Congo jr consoles and offers 20 faders with an LCD for labeling the fader content; the 2 x 20 Fader Wing is the same width as the Ion and Congo jr consoles and offers 40 faders and two LCD displays.
Electronic Theatre Controls
Since its founding by Fred Foster in 1975, ETC (Electronic Theatre Controls, Inc.) has become a global leader in award-winning entertainment and architectural lighting equipment. ETC's fixtures, lighting control consoles, dimmers and distribution products are the backbone of lighting systems in venues worldwide - from schools and churches, to community theaters and TV studios, to opera houses and theme parks. Over the first decade of its history, ETC earned a reputation for sophisticated microprocessor-based lighting control consoles. By 1990, ETC had acquired Lighting Methods, Inc., a Rochester, New York-based manufacturer of entertainment dimming systems. ETC quickly became one of the largest fully-integrated entertainment lighting control manufacturers in North America, with offices in Middleton, WI; Orlando, FL; Rochester, NY; and Hollywood, CA. The next phase of growth began in 1995, when ETC acquired the lighting control division of London-based distributor ARRI GB. That same year, ETC opened an office in Hong Kong, extending its expansion into Asia. In 1997, ETC opened an office in Copenhagen, Denmark, to serve the Northern European market, and a year later opened an office in Rome, allowing greater access to Southern Europe. ETC acquired Transtechnik Lichtsysteme, Holzkirchen, Germany in 2002, widening ETC's market potential in Europe. Continuing its growth, ETC took an equity position in Avab France in 2003. In 2004, ETC acquired Dutch sine wave dimming manufacturer IES and its industrial weighing and measuring division Penko Engineering BV, both located in Veenendaal, the Netherlands. Beginning March 31, 2005, all formerly separate operations of ETC in Europe joined under the common corporate banner of ETC. ETC's new international headquarters, located in Middleton, WI (near the state capital Madison) serve as hub of global administration and manufacturing. Through the years, ETC has gained an industry-wide reputation for outstanding service and customer support. ETC not only maintains in-house, 24-hour Technical and Customer Service staffs, but an extensive network of factory-trained, authorized field service centers.
Used Lighting Console Wings
Find used lighting console wings in well maintained condition from such popular brands as MA Lighting, High End Systems, Avolites, Jands and Martin Professional. All used lighting consoles come with warranty and many have been certified by factory technicians. Solaris sells and buys secondhand and used lighting console wings for touring production, churches, theaters, film, television and more. Call us if you don't find it and we will find it for you.
2x10 Fader Wing - 2x10 Fader Wing in good condition, previously used on tours.