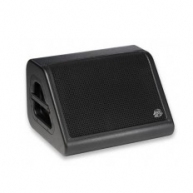 The Clair Brothers 12AM is the monitor of choice
for the world's top entertainers. This portable, low-profile,
high output stage monitoring speaker delivers
incredible
SPL, exceptional vocal reproduction, and
unprecedented
low frequency reproduction from
a small enclosure.
Designed
for bi-amplification
and custom
processing (utilizing the Clair Brothers
amplification
and processing),
the 12AM is in a class
by itself. No other product can duplicate its combination
of performance, size and packaging.
The high frequency Compression Driver features a
two-inch throat with a four-inch titanium diaphragm
and neodymium
magnet assembly. The driver is
joined to proprietary asymmetrical horn for exceptional
intelligibility.
A custom 12-inch cone transducer
provides
mid-bass and low frequency reproduction.
The combination of our professional high-output
components
deliver exceptional
performance and
unique directional characteristics.
Clair Bros
Used Monitors
Find used speaker monitors and stage monitors from popular brands as L-Acoustics, Turbosound, EAW and Meyer Sound. All used speakers we carry are warrantied and in most cases inspected by factory certified technicians. Solaris sells and buys secondhand and used stage monitors and monitors for use in churches, clubs, theaters and other large events and shows. Call us if you don't find it and we will find it for you.