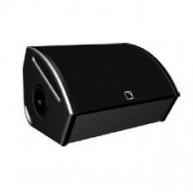 The 115XT HiQ is the high-end model within the L-Acoustics XT coaxial series, designed for stage monitor and distributed FOH applications. It operates as an active 2-way enclosure, over a frequency bandwidth from 50 Hz to 20 kHz which can be lowered to 32 Hz with the addition of the SB18 Subwoofer.

The 115XT HiQ enclosure contains a 3'' diaphragm Compression Driver loaded onto a constant directivity conical waveguide united in a coaxial configuration with a 15'' low frequency transducer. Integrated into a compact low profile bass-reflex tuned enclosure this coaxial transducer arrangement produces a 50deg axi-symmetric directivity output along with a smooth tonal response free of anysecondary lobes over the entire frequency range, resulting in exceptional immunity to feedback especially in monitoring situations.

Made of high-grade Baltic birch plywood, the wedge-shaped cabinet design makes the 115XT HiQ perfectly suited to short or long throw monitoring use with two fixed angle settings of 30˚ and 60deg from vertical. The 115XT HiQ can also be pole-mounted using the integrated socket or flown using the complementary ETR15 bracket or XTLIFTBAR accessory.

The control and amplification of the 115XT HiQ is managed by the L-Acoustics LA8 platform. The active DSP filtering encompasses advanced crossover functions, system EQ, HF and LF transducer time alignment, and dual protection of the transducers (PEAK and RMS). The L-Acoustics LA8 amplified controller offers the following drive modes:

* ''FULL RANGE'' mode for 115XT HiQ standalone use at nominal bandwidth ([HIQ_FR], [HIQ_FI] and [HIQ_MO] presets)
* ''HIGH-PASS'' mode with 100 Hz high-pass filter to possibly associate the complementary SB18 Subwoofer ([HIQ_FR_100], [HIQ_FI_100] and [HIQ_MO_100] presets)

For each mode a distinction is drawn between [FRONT], [FILL] and [MONITOR] presets as they respectively match front of house, distributed applications and half-space loading operating conditions.

The performances of the 115XT HiQ enclosure depend upon the choice of preset and physical system configuration.
L-Acoustics
Founded by Dr Christian Heil in 1984, L-ACOUSTICS has revolutionized the Pro Audio industry with its legendary Line Source Systems. For the past two decades, L-ACOUSTICS has developed a reputation for creating innovative solutions to the most demanding sound reinforcement requirements. Commitment to the scientific method and product innovation have been our philosophies from the outset. But innovation doesn't stop with the product itself: with continued value enhancements, we offer you exceptional product durability. L-ACOUSTICS is more than a sound system manufacturer, it is a full service partner dedicated to customer support. The Best Sound Comes From One Source
Used Monitors
Find used speaker monitors and stage monitors from popular brands as L-Acoustics, Turbosound, EAW and Meyer Sound. All used speakers we carry are warrantied and in most cases inspected by factory certified technicians. Solaris sells and buys secondhand and used stage monitors and monitors for use in churches, clubs, theaters and other large events and shows. Call us if you don't find it and we will find it for you.
115XT HiQ - 115XT HiQ in good condition, previously used in rentals.
115XT HiQ - Sold in pairs. Priced per unit.
115XT HiQ - 115 XT HiQ in good condition.
115XT HiQ - These 115XT HiQ from L-Acoustics were used in Concerts and TV-Shows. From 2006-2009.
115XT HiQ - Dual flight case included from 2007.
115XT HiQ - 115XT HiQ in excellent condition. Minimum purchase of (2) units. Priced per unit.