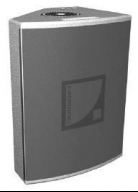 The L-Acoustics approach to distributed sound reinforcement using multiple sound sources starts with the specification that each individual loudspeaker enclosure should behave as a totally coherent source. This criterion can be achieved using coaxial components which are well-suited to the design of
highly versatile, Small Format systems. The use of coaxial components has been popularized over the years in studio monitoring applications to the best of our knowledge, L-Acoustics was the first
manufacturer to use coaxial technology in professional sound reinforcement applications and the
current XT line is a continuation of the heritage that was introduced in 1989 with the MTD line. Coaxial, dual concentric components provide a smooth transition between the LF and HF sections
since, by definition, the directivity of the two transducers is matched at the crossover frequency. In addition, the directivity is horizontally, vertically and diagonally symmetric (axi-symmetric). This results in true, single source behavior and the performance obtained is superior in terms of coherence when compared with any combination of two independent sound sources (separate woofer plus hornloaded
compression driver, for example). This is the case even if the independent sources are
designed to provide the same directivity (which is rarely the case) since the acoustic centers of the
two sources are not located at the same physical location.
The coaxial configuration provides the optimum directivity required in order to obtain even coverage
and constant tonal balance in a typical semi-reverberant auditorium. Extensive sound design and installation experience acquired by L-Acoustics over the years confirms this and we are confident that coaxial, axi-symmetric loudspeaker enclosures are the best tools for multiple source, distributed
sound design. The coaxial performance of the 112XT, 115XT and 115XT HiQ loudspeaker
enclosures provide the basic starting tools for distributed sound reinforcement design.
L-Acoustics
Founded by Dr Christian Heil in 1984, L-ACOUSTICS has revolutionized the Pro Audio industry with its legendary Line Source Systems. For the past two decades, L-ACOUSTICS has developed a reputation for creating innovative solutions to the most demanding sound reinforcement requirements. Commitment to the scientific method and product innovation have been our philosophies from the outset. But innovation doesn't stop with the product itself: with continued value enhancements, we offer you exceptional product durability. L-ACOUSTICS is more than a sound system manufacturer, it is a full service partner dedicated to customer support. The Best Sound Comes From One Source
Used Monitors
Find used speaker monitors and stage monitors from popular brands as L-Acoustics, Turbosound, EAW and Meyer Sound. All used speakers we carry are warrantied and in most cases inspected by factory certified technicians. Solaris sells and buys secondhand and used stage monitors and monitors for use in churches, clubs, theaters and other large events and shows. Call us if you don't find it and we will find it for you.
112XT Package - Complete 112XT package including (4) 112XT, (12) 12XT, (2) LA4 and (2) LA4.
112XT - From installation. Call for more information on this listing.
112XT Package - Package of (6) 112 XT(s) with flight cases.
112XT - This is a 112XT / 115XT Complete Package.