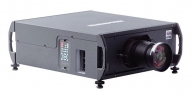 DPI presents a revolution in advanced 3-chip DLP displays with the new Titan Quad product line. Incredibly compact and efficient for its lumen performance, the Titan Quad series incorporates DPs active 3D connectivity, advanced image Warp and Blend, Intelligent Lens Mount, ColorMax calibration technology, and a host of vital professional features to suit almost any commercial installation or staging application imaginable.

As efficient as they are capable, the introduction of the 16,000 lumen Titan Quad lineup marks the worlds first projectors of this brightness, in a chassis with such a small form factor. The new Titan Quad projectors are available in SX+, 1080p and WUXGA native resolution, and include powerful DP innovations such as FastFrame, Dual-Flash Processing and CoolTek Engineering. The Titan Quad represents the new flagship of DPIs Titan product line, which now encompasses over 30, 3D capable precision displays.

Utilizing DPIs new, advanced electronics, all Titan Quad models provide the user with advanced Warp and Blend capabilities, including the ability to make extensive geometric warp correction for screens with complex geometry. Superbly capable edge blending and multi-projector tiling is provided by way of high bit depth processing that ensures a seamless, contiguous image can be created from multiple projectors. Additionally, end users can choose to utilize the Titan Quads onboard tiling function by assigning each projector a position within an image Matrix. The video processing then automatically extracts the appropriate segment of the input image and enables blending for the appropriate edges.

Also included are DPIs exclusive 3D advances that further extend the remarkable flexibility engineered within each Titan Quad display. Applications with 120 Hz native sources utilize the High Bandwidth input, eliminating the need for frame doubling. For 60 Hz 3D applications, DPIs built-in Dual Flash Processing enables distribution of 3D content via 60 Hz formats by frame-doubling the signal within the projector, producing the low flicker image characteristics of a native 120 Hz source without the infrastructure costs associated with distributing and switching ultra-high bandwidth signals.

As is the case with all Digital Projection displays, our careful engineering guarantees Titan projectors provide remarkable resolution, color saturation and light output for years to come. Equally important, DPIs legacy in providing superior customer and technical services assures our experienced support staff is always available to address your needs.

Digital Projection
A digital imaging pioneer and industry leader, Digital Projection International (DPI) manufactures and distributes an extensive and expanding line of ultra high-performance 3-chip and single-chip DLP¬ģ projection systems. These projectors are the reference standard for demanding applications such as large-venue, live-event staging, Fortune 5000, homeland security, education, medical and scientific research, command and control, digital cinema, commercial entertainment, worship and elite home cinema.
Used Video Projectors
Video projectors such as a digital video projector or an LCD projector are an alternative to regular video screens in that they project images directly onto a screen, rather than projecting the video from behind as a television or monitor does. Video projectors use a lens system and project an extremely bright beam of light onto a screen. Modern video projectors such as a 3 chip DLP projector have are extremely intricate and able to correct inconsistencies in the image such as blurriness and curvature. Video projectors are commonly used in concerts and theatres, and they have many other applications in educational and business settings. They can also be used as part of a home theater system. There are a vast range of different video projectors available. The old CRT projectors are surprisingly still quite widely used, as they are able to project a very large image size, although the bulkiness of the cabinet is not so popular. For professional use in theatres and concerts, the DLP projector is one of the preferred models. DLP video projectors use 1, 2 or 3 Digital Micromirror Devices, called DMDs, which are essentially microfabricated light valves. The 1 chip DLP projector and the 2 chip DLP projector have been known to experience a problem however '?? viewers can sometimes perceive a '??rainbow'?Ě on the projection screen, and so the 3 chip DLP projector is more popular, as this is able to display each primary color in a simultaneous fashion, so the problem doesn'??t occur. The LCD flat panel model is perhaps one of the most popular video projectors for home and business use, as it is both affordable and simple to use. Other video projectors include the LCoS projector, LED projectors, Laser Diode projectors and hybrid LED/Laser Diode projectors.