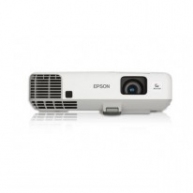 Brilliant Image Quality and Network Control.

The network-controllable PowerLite 93+ upgrades the classroom experience with HDMI digital connectivity and powerful performance. Monitor and control the projector over your network using the RJ-45 connector, saving you time and money. XGA resolution, 2600 lumens of color brightness (color light output)1 and 2600 lumens of white brightness (White Light output)1 ensure bright, clear images, while the premium, 16 W speaker delivers powerful audio, even to the back of the room. A built-in closed captioning decoder accommodates students with hearing impairments. And, the E-TORL lamp stretches your equipment dollar with an impressive lamp life up to 6000 hours2. Easy to manage and control over the network, the PowerLite 93+ brings brighter, more engaging presentations to more classrooms.

3x Brighter Colors with Epson*
Brilliant image quality requires high color brightness. Epson 3LCD projectors have 3x Brighter Colors than leading competitive projectors*. Delivering 2600 lumens of color brightness1 and 2600 lumens of white brightness1, the PowerLite 93+ uses 3LCD, 3-chip technology for brilliant images with true-to-life color.
Note: Epson does not accept returns on Clearance Center items, unless the product arrives defective, in which case, a replacement with the same model or equivalent will be sent.
Epson America Inc
The history of Epson America and our parent company, Seiko Epson Corporation, began with a heritage in watchmaking that led to the invention of the world's first quartz watch. Over a century later, Epson's innovation continues to provide the world with numerous technology "firsts".
Used Video Projectors
Video projectors such as a digital video projector or an LCD projector are an alternative to regular video screens in that they project images directly onto a screen, rather than projecting the video from behind as a television or monitor does. Video projectors use a lens system and project an extremely bright beam of light onto a screen. Modern video projectors such as a 3 chip DLP projector have are extremely intricate and able to correct inconsistencies in the image such as blurriness and curvature. Video projectors are commonly used in concerts and theatres, and they have many other applications in educational and business settings. They can also be used as part of a home theater system. There are a vast range of different video projectors available. The old CRT projectors are surprisingly still quite widely used, as they are able to project a very large image size, although the bulkiness of the cabinet is not so popular. For professional use in theatres and concerts, the DLP projector is one of the preferred models. DLP video projectors use 1, 2 or 3 Digital Micromirror Devices, called DMDs, which are essentially microfabricated light valves. The 1 chip DLP projector and the 2 chip DLP projector have been known to experience a problem however '?? viewers can sometimes perceive a '??rainbow'?Ě on the projection screen, and so the 3 chip DLP projector is more popular, as this is able to display each primary color in a simultaneous fashion, so the problem doesn'??t occur. The LCD flat panel model is perhaps one of the most popular video projectors for home and business use, as it is both affordable and simple to use. Other video projectors include the LCoS projector, LED projectors, Laser Diode projectors and hybrid LED/Laser Diode projectors.