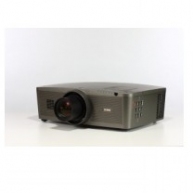 A most versatile mid-range projector, the LC-WUL100A delivers true High Definition 1080p video and UXGA & WUXGA computer imaging without scaling. Combining large venue projection features with durable components and reduced maintenance, the Eiki LC-WUL100A comes complete with a wide-range power zoom and focus lens, or, as the LC-WUL100AL, it is available without lens and ready for a selection from a suite of optional lenses.
Key Features
5,000 ANSI lumens bright with 90% uniformity and a 2000:1 contrast ratio.
Native WUXGA resolution. Compatible with inputs up-to UXGA and WUXGA.
Supports analog and digital video input in all color standards up-to 1080p.
Durable inorganic 3-panel LCD imaging engine with a high contrast ratio.
10-bit color processing, for superior color reproduction.
Power zoom and focus lens. Optional wide-angle and telephoto lenses.
Vertical and horizontal power lens shift and digital keystone correction.
HDMI input supports digital data, plus digital video with HDCP.
Built-in 10 Watt amplifier and speaker system. Closed Caption decoding.
Built-in wired LAN connection for projector monitoring and control.
Self-advancing cartridge air filter reduces maintenance: up-to 13,000 hour life.
Mechanical shutter for true black screen in "No Show" mode.
Physically centered lens with push-button lens change.
Picture-in-Picture & Picture-by-Picture. Wireless/wired remote with mouse.
3 year/6000 hrs. (whichever comes first) projector warranty.
Included Accessories: Quick Start Guide, Owner's Manual on CD-ROM, Network Software on CD-ROM, Power Cord, VGA Computer Input Cable (Dsub15 to Dsub15), Wireless/Wired Remote with Mouse Control (with 2 AAA Batteries), Wired Remote Cable (MiniStereo-MiniStereo), Lens Cover.
Optional Accessories: Replacement Lamp, Wideangle, Midrange and Telephoto Lenses, Replacement Cartridge Air Filter, Pj - NetDirector and NetCapture software, ATA Style Shipping Case with Wheels and Telescoping Handle, Ceiling Mount, Ceiling Post & Plate.
Eiki
Eiki video / computer projectors are found in classrooms, training rooms, conference rooms, boardrooms, houses of worship, auditoriums, theaters, entertainment technology applications, digital signage installations ... anywhere high quality digital imaging is needed. For expert advice and the presentation resources you need, talk to your EIKI Dealer ... the "pro" in video projectors!
Used Video Projectors
Video projectors such as a digital video projector or an LCD projector are an alternative to regular video screens in that they project images directly onto a screen, rather than projecting the video from behind as a television or monitor does. Video projectors use a lens system and project an extremely bright beam of light onto a screen. Modern video projectors such as a 3 chip DLP projector have are extremely intricate and able to correct inconsistencies in the image such as blurriness and curvature. Video projectors are commonly used in concerts and theatres, and they have many other applications in educational and business settings. They can also be used as part of a home theater system. There are a vast range of different video projectors available. The old CRT projectors are surprisingly still quite widely used, as they are able to project a very large image size, although the bulkiness of the cabinet is not so popular. For professional use in theatres and concerts, the DLP projector is one of the preferred models. DLP video projectors use 1, 2 or 3 Digital Micromirror Devices, called DMDs, which are essentially microfabricated light valves. The 1 chip DLP projector and the 2 chip DLP projector have been known to experience a problem however '?? viewers can sometimes perceive a '??rainbow'?Ě on the projection screen, and so the 3 chip DLP projector is more popular, as this is able to display each primary color in a simultaneous fashion, so the problem doesn'??t occur. The LCD flat panel model is perhaps one of the most popular video projectors for home and business use, as it is both affordable and simple to use. Other video projectors include the LCoS projector, LED projectors, Laser Diode projectors and hybrid LED/Laser Diode projectors.