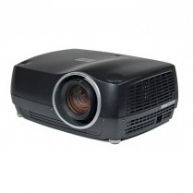 Digital Projection International proudly introduces the dVision Scope 1080p, a native 2.35:1, full 1080p precision DLP projector that delivers the CE channels only anamorphic lens-free, full resolution, constant height projector available today. Based on the DP-exclusive native WQXGA (2560 x 1600) DMD, the dVision Scope 1080p enlists an incredible 2560 x 1080 resolution for higher-than-HD detailed imagery. The first projector in this series, the dVision Scope 1080p produces the highest resolution of any single chip DLP-based product available anywhere today. Producing up to 2000 ANSI lumens. Contrast ratios up to 7500:1 can be achieved using the motorized lens aperture, which allows the user to accurately define contrast and brightness to match Venue and content requirements.

The dVision Scope 1080p presents a superior Solution for moving between 1.78:1 and 2.35:1 aspect ratio content (or any content wider than 1.78). Prior to the unveiling of the dVision Scope, customers seeking to view a variety of aspect ratios while maintaining a constant height image needed to purchase

1080p projectors along with specialized anamorphic optics and a lens sled. Up to this point, peripheral Scope systems had been the best solutions to achieve great imagery and a consistent image height when moving between 1.78:1 and 2.35:1 content.

Anamorphic lens solutions add significant cost, as well as mechanical and optical complexity to the installation. Additionally, anamorphic optics consume about 10% of the projectors brightness and reduce the contrast ratio.

No anamorphic optics are required when the dVision Scope 1080p projector is employed in a constant height application. When 1.78 content is being viewed, that content is simply displayed by the projector at 1080p resolution. When wider aspect ratio content is presented, the wider content continues to be displayed at 1080 pixels of vertical resolution, so the vertical height of the image is maintained. Horizontally, the image is re-sized to fit a 2560 X 1080 format. Then the projectors aspect ratio is adjusted such that the wider content is presented with increased horizontal resolution (beyond the 1920 horizontal pixels associated with 1080p content). The projector automatically detects the presence of letterbox" black bars and will re-size the image to fit the height of the DMD (1080p) while maintaining the proper aspect ratio.

A flexible array of ultra-accurate optics delivers throw ratios as short as .75:1 and as long as 6.5:1. The dVisions quick-change motorized lens mount provides an extensive range of horizontal and vertical lens shift. Every dVision is also equipped with a motorized light shutter and a backlit projector information display, which provides users with all relevant data regarding the projectors operating status.

As is the case with all Digital Projection displays, our careful engineering and superior customer and technical service guarantee dVision projectors will provide remarkable imaging and reliability for the long-term.

Experience Hollywoods Home Cinema with DPs dVision Scope 1080p.
Digital Projection
A digital imaging pioneer and industry leader, Digital Projection International (DPI) manufactures and distributes an extensive and expanding line of ultra high-performance 3-chip and single-chip DLP¬ģ projection systems. These projectors are the reference standard for demanding applications such as large-venue, live-event staging, Fortune 5000, homeland security, education, medical and scientific research, command and control, digital cinema, commercial entertainment, worship and elite home cinema.
Used Video Projectors
Video projectors such as a digital video projector or an LCD projector are an alternative to regular video screens in that they project images directly onto a screen, rather than projecting the video from behind as a television or monitor does. Video projectors use a lens system and project an extremely bright beam of light onto a screen. Modern video projectors such as a 3 chip DLP projector have are extremely intricate and able to correct inconsistencies in the image such as blurriness and curvature. Video projectors are commonly used in concerts and theatres, and they have many other applications in educational and business settings. They can also be used as part of a home theater system. There are a vast range of different video projectors available. The old CRT projectors are surprisingly still quite widely used, as they are able to project a very large image size, although the bulkiness of the cabinet is not so popular. For professional use in theatres and concerts, the DLP projector is one of the preferred models. DLP video projectors use 1, 2 or 3 Digital Micromirror Devices, called DMDs, which are essentially microfabricated light valves. The 1 chip DLP projector and the 2 chip DLP projector have been known to experience a problem however '?? viewers can sometimes perceive a '??rainbow'?Ě on the projection screen, and so the 3 chip DLP projector is more popular, as this is able to display each primary color in a simultaneous fashion, so the problem doesn'??t occur. The LCD flat panel model is perhaps one of the most popular video projectors for home and business use, as it is both affordable and simple to use. Other video projectors include the LCoS projector, LED projectors, Laser Diode projectors and hybrid LED/Laser Diode projectors.