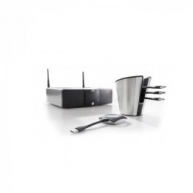 ClickShare makes connecting to the meeting rooms video system a matter of clicking a button. This one click wonder not only helps the presenter get the presentation on-screen in a second, but it also allows the other people in the meeting to participate more actively. Sharing can be done via laptop PC or MAC, or via iOS and Android-powered mobile devices. The result is enhanced meeting efficiency and better decision-making.

More pixels, more content

ClickShare wireless presentation and collaboration system boardroomIf you are driving two projectors, two screens, or Double HD canvas, the full-featured CSC-1 Base Unit is the right choice. This unit is fully compatible with the ClickShare Buttons and the apps for mobile devices, and was optimized for use in high-profile meeting rooms and boardrooms.

Optimized collaboration experience

By enabling to display the content of up to 4 users simultaneously, the CSC-1 Base Unit brings a complete Clickshare collaboration experience. 64 Buttons can be wirelessly connected to the Base Unit, ready to share. Furthermore, perfectly synchronized sound and video ensures that movie clips can be optimally enjoyed. And dynamic content from iPads and iPhones can be shown using the optional ClickShare Link.

ClickShare set

A ClickShare CSC set consists of a Tray, four Buttons and a Base Unit. Additional items are sold separately.

See this product in action
Barco
Barco, a global technology company, designs and develops visualization solutions for a variety of selected professional markets: medical imaging, media & entertainment, infrastructure & utilities, traffic & transportation, defense & security, education & training and corporate AV. In these markets Barco offers user-friendly imaging products that optimize productivity and business efficiency. Its innovative hard- and software solutions integrate all aspects of the imaging chain, from image acquisition and processing to image display and management. Barco has its own facilities for Sales & Marketing, Customer Support, R&D and Manufacturing in Europe, America and Asia-Pacific. The company (NYSE, Euronext Brussels: BAR) is active in more than 90 countries and employs 3,500 staff worldwide. In 2008 Barco posted sales of 742 million euro.
Used Video Projector Accessories
Find used video projector components and accessories from such popular brands as Barco, Christie Digital, Eiki and Epson. All used video projectors are warrantied and in most cases inspected by factory certified technicians. Solaris sells and buys secondhand and used video projector components and accessories for houses of worship, concerts, auditoriums and corporate events. If you do not find what you are looking for give us a call and we will quickly find it for you.