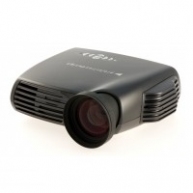 The F12 professional grade DLP projector series features a choice of WUXGA (1920 x 1200), 1080p (1920 x 1080), or SXGA+ (1400 x 1050) resolution DLP technology, a wide range of different configuration options, our revolutionary RealColor colour management suite, and a range of lenses. The unique combination of High Resolution in an incredibly small chassis, paired with outstanding brightness and contrast, brings a new level of compatibility, image quality, and flexibility to the AV industry. It is the first projector of its kind to offer this combination of features. All that in a small 3.5 kg magnesium chassis. less

The F12 is a professional grade DLP projector that offers a unique blend of features and benefits in reliability, image quality, and unbelieveably small size for demanding applications.

Markets and applications

The F12 series is designed with several applications in mind, from scientific visualisation to post production, but is especially suitable for inclusion in motion simulators and applications that require an ultra-reliable projector that can withstand rough handling and provide the ultimate in image quality at the same time.

WUXGA, 1080p, or SXGA+ resolution

The projectiondesign F12 can be configured with both WUXGA, 1080p and SXGA+ resolution for computer or video centric applications. Where computer based image generation with maximum detail and accuracy is the primary concern, 1920x1200 pixels (WUXGA) is the obvious choice, and fully compatible with the legacy 1600x1200 format. Furthermore, for video centric applications, the 1920x1080 (1080p) pixel resolution perfectly fits HD video and data. Whether computer or video, wide screen or legacy 4:3, there is a model with the right resolution available. In fact, with this range of resolutions, the F12 covers nearly any requirement in virtually any professional AV installation.

DLP technology chosen for reliability

The DLP technology from Texas Instruments is chosen for its unmatched reliability performance, and its unique coupling with long lasting image quality. With a widely recognized and proven reliability record, and high brightness and contrast, all whilst displaying utterly natural colours, it is the obvious choice for heavy duty applications, or applications that are that run continuously, or are mission critical. Independent testing has proven DLP technology to be the most reliable of all microdisplays; not degrading when subjected to UV light, inherent in all projectors. Unlike competing technologies, showing severe image quality degradation after only a few thousand hours, DLP technology remains constant over hundreds of thousands of hours.

RealColor colour management

RealColor provides a unique and quick way to calibrate and set up perfect images for any number of projectors. RealColor can alter imagery by changing simple characteristics such as the colour temperature of the image perfectly along the black body curve, or very complex attributes such as each colours relative saturation and x/y coordiantes. In fact, it is perfect to within 0.002 along all axis of measurement. RealColor works by mathematically calculating each colour independently.

VIDI technology improves grey scale

VIDI technology from Philips enables dynamic lamp driving over time, and enhances image quality. It greatly reduces grey scale artefacts, adds to colour saturation, enhances contrast, and improves lamp stability. Each projector configurations lamp runs differently from that of others, and ensures a lamp that is specifically tailored to the application it is used for. Unlike non-VIDI based projectors, the lamp power is digitally controlled, as is its performance over time.

Low Total Cost of Ownership

Thanks to its robust build and construction, the F12 series requires close to no maintenance and in-life servicing. There are no user serviceable parts inside, and it does not have any filters or other parts that need periodical replacement. That means it does not require a costly and high frequency maintenance contract. Typical lamp replacement cost is low*, and typical lamp life is long. In total, the F12 is a very cost effective projector over time, resulting in a fully predictable and very low Total Cost of Ownership.
Projection Design
About projectiondesign projectiondesign is a Norwegian company that designs, manufactures and markets high-performance projectors for professional, business and consumer applications. Amongst its core markets are high-resolution scientific visualization, visual training and simulation, medical imaging, broadcast and post production, public media and entertainment etc. Since 2013, projectiondesign is part of Barco, a global technology company that designs and develops visualization products for a variety of selected professional markets. Barco (NYSE Euronext Brussels: BAR) is active in more than 90 countries with about 3,900 employees worldwide. Barco posted sales of 1.156 billion euro in 2012. projectiondesign is located in Fredrikstad, Norway.
Used Video Projectors
Video projectors such as a digital video projector or an LCD projector are an alternative to regular video screens in that they project images directly onto a screen, rather than projecting the video from behind as a television or monitor does. Video projectors use a lens system and project an extremely bright beam of light onto a screen. Modern video projectors such as a 3 chip DLP projector have are extremely intricate and able to correct inconsistencies in the image such as blurriness and curvature. Video projectors are commonly used in concerts and theatres, and they have many other applications in educational and business settings. They can also be used as part of a home theater system. There are a vast range of different video projectors available. The old CRT projectors are surprisingly still quite widely used, as they are able to project a very large image size, although the bulkiness of the cabinet is not so popular. For professional use in theatres and concerts, the DLP projector is one of the preferred models. DLP video projectors use 1, 2 or 3 Digital Micromirror Devices, called DMDs, which are essentially microfabricated light valves. The 1 chip DLP projector and the 2 chip DLP projector have been known to experience a problem however '?? viewers can sometimes perceive a '??rainbow'?Ě on the projection screen, and so the 3 chip DLP projector is more popular, as this is able to display each primary color in a simultaneous fashion, so the problem doesn'??t occur. The LCD flat panel model is perhaps one of the most popular video projectors for home and business use, as it is both affordable and simple to use. Other video projectors include the LCoS projector, LED projectors, Laser Diode projectors and hybrid LED/Laser Diode projectors.