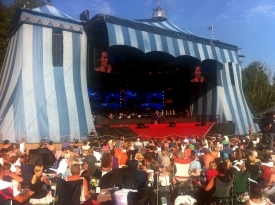 Top Danish Concert Chooses KARA System by L-ACOUSTICS
October 15th, 2011
The annual Ledreborg Slotskoncerter festival in Denmark has marked the 12th successive year in which L-Acoustics systems have been used for the event. Hosted by Denmark's National Chamber Orchestra and featuring various national and international guest performers, the concert is one of the biggest outdoor events of its kind in the Danish calendar.

For the 2011 event, engineers chose to use a KARA WST modular line source system as well as SB18 subs to provide acoustics.

Chief engineer Henrk Bonne revealed that the KARA/SB18 system hadreceivedtons of positive feedback about the sound quality from festival-goers, and stated that he himself was extremely impressed with its performance.

Includedin the installation were 20 KARA cabinets for both left hang and right hang, while another four KARAs were used to provide front fill. Meanwhile, 8 flown SB18s were used per side, together with 3 115 HiQ coaxials for infill. Other equipment used includedKIVA ultra compact line source cabinets and 16 12XT coaxials, with twenty LA8 amplified controllers driving the whole system.