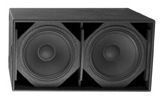 The WS218X is a high performance sub-bass system designed for use with large scale Wavefront and Blackline systems, in both touring and install applications. It features twin, 1000 watt 18" (460mm) drive units with magnet structure and suspension engineered for maximum linear excursion.

The birch ply cabinet is fitted with six pocket handles and four 4" (100mm) castors for easy deployment. It features large area porting to reduce air noise.

WS218X subwoofers are designed to be powered by Martin Audio MA4.2s power amplifiers.
Martin Audio
Martin Audio was founded in 1971 to manufacture and supply world class touring systems for the supergroups of the day that included Pink Floyd and Supertramp. We are very proud of this heritage. Designing leading edge live performance systems has remained core to our success. Today, Martin Audio enjoys an international reputation for supplying superb performance ready systems across the spectrum of sound reinforcement applications. Our portfolio of products, now highly developed, meet customer requirements for every market sector. Renowned for integrity in design, technical excellence and the longevity of its products, Martin Audio takes system creation into a further dimension. Our aim is for every member of the audience to enjoy an exceptional sonic experience. Martin Audio systems are designed with in-built sound qualities which artists can rely on to faithfully reproduce their performance to every corner of the auditorium.
Used Line Array Speakers
Find used line array speakers and line array elements from such popular brands as L-Acoustics, d&b audiotechnik, Meyer Sound and Nexo. All used line array speakers are warrantied and in most cases inspected by factory certified technicians. Solaris sells and buys secondhand and used line arrays for large concerts, tours, stadiums and auditoriums. Call us if you don't find it and we will find it for you.